By some simple ideas and modern touches the dining room decor wears special charm. A simple space can be transformed and renewed completely with color notes, which bring vitality and joy to the environment.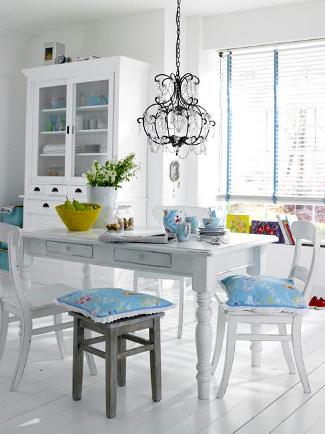 In this room the white is the protagonist. The range of the target can decorate any room in the house, offering advantages such as the effect of spaciousness, or a clean and refined aesthetic that fits all styles.
Some ideas:
Use white on all surfaces of a room can create a feeling from a cold and lifeless, which is easily remedied by incorporating a few touches of rich, vivid colors. These can be integrated into the dining room from the hand of decorative accessories, which is a simple and quick option to implement and change at any time.

This versatile color, white, covering a wide range can be mixed in an interior with other neutral tones, cold or warm colors and with all of them achieve attractive results. Much better if we choose while adding elements that accompany with colorful shapes and suggestive and fun textures.
Try mixing layers of different shades of white, furniture, floor and walls of the room. Pickled or worn-in furniture, wallpaper on the walls, or a carpet that frame the dining area.
To break the monotony of the absolute coldness and white interior, introduces bright splashes through the textiles that make up the space. You'll get more color and warmth quickly, cushion covers with floral prints, curtains in genres with Vichy type pictures, tablecloths with patchwork designs, for mentioning some options.
Give a twist to your dining room with lighting. A classic and imposing light or with a piece of original design, some retro-style ceiling lamp. The proposal is inspired by striking figures that provide comfort and functionality to this room.