The floor, walls, furniture, household textiles and accessories, all coordinated in this open space that houses two areas of the house: the kitchen and dining room, areas that many prefer to keep in a scheme fully integrated. In this bet in aesthetic simplicity stands, getting an attractive and functional interior.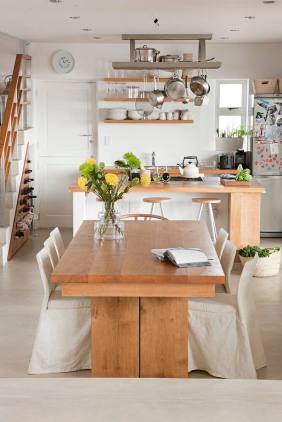 Most of us love when two rooms of the house manage to melt and achieve visual balance. It is what happens in the kitchen and dining room; two areas that are united visually can offer more practicality in lower displacement, and allowing smooth communication. For while kitchen activities are performed, such as dish washing, order or prepare a recipe, you can maintain contact with those who are sitting at the table, for example. The point to consider especially with this type of configuration space has to do with the aesthetic level, so as to ensure that both areas achieve harmony and balance.
This objective considers is perfectly achieved in this house. Inside that acts as a multipurpose space, occupies one of the floor plans with kitchen, plus a breakfast bar in the central space. It is an island that in addition to maximize the functional kitchen space, acts as an element that divides the environments, creating a separation that orders and to decorate at the same time.
The simplicity and simplicity are the common denominator in the kitchen and dining area. The kitchen furniture's are chosen with white fronts, while the tops and other furniture for storage are wood with clear and natural finish. It dispensed with the conventional cabinets, and in its place installed a few shelves that offer a saving extra space. While support for hanging accessories and kitchenware, was installed in the roof crowning the central island, and promoting the use of every inch of the room and decoratively.
In the dining room chairs are dressed with covers of a textile that adds a fresh and light touch, and the table is a success story, with its imposing figure and airy with the beauty of wood as the main attraction. The base of the table is made up of wide wood slats, that give the color and grain of wood as a finish that adds charm to the decor, and this design is repeated on the basis of the central island, a detail that promotes the concept of integration of these environments.
To visually unify both areas, items such as smoothing concrete floor, this is clear and adds more light into space. The walls and white ceiling also collaborate in creating a visually balanced interior. The decor is austere, natural elements and neutral tones are incorporated, making it a modern, cozy and elegant atmosphere, without giving a hint of practicality in a space that prevents flooding.