In any interior decoration it is important to appreciate the value of the walls as a surface on which we can bet on creativity, creating unique compositions to help us customize a home environment. When giving a special touch to a corner alternatives are many and can include unexpected elements to complete the set.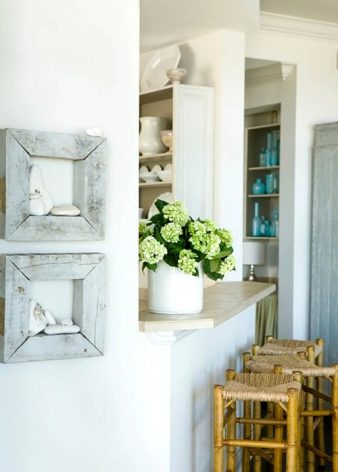 Frames with photographs or films, pictures or works of art are the conventional options that are used to decorate walls. If you want to break with the structures and create an innovative arrangement in your home, we show this super creative and lovely idea, in which some empty frames were hung on a wall, and instead of using a painting or photograph inside, a mere stones were placed, the result is a decorative accessory with a natural and original touch.
The pickling effect applied to the wooden frames, adds a warm nod to the composition, to which is added the use of pastel colors.
Furthermore, the use of wooden frames and stones of different shapes and sizes, highlights the natural and welcoming gesture of this decorative detail, that definitely committed to the handmade when it comes to decorating the walls of the house.