An amazing and lovely texture overlay gives life to this cuisine in a generous space, bright dimensions and invites enjoyed. Materials such as stone, wood, cement come together in this space by creating a dynamic play of finishes, which creates a cozy and with an air of rustic atmosphere.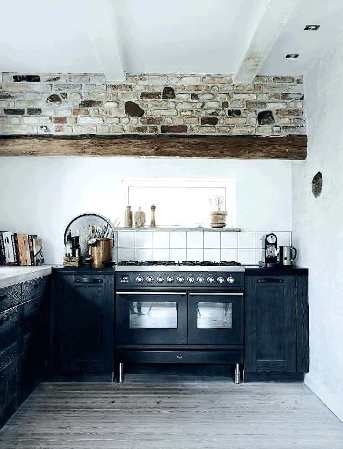 For the front kitchen furniture wood is stained a dark color that gives depth, while on the roof beams join a strip of natural stone and view it sympathetically poke from the top of the walls. Wooden beams accompany the group and act as the glue that binds the stone with the white walls.
A small horizontal window provides natural light to the room, occupying a windowsill pots and accessories for cooking and decoration that provide a natural and personal touch to the environment.
The natural wood flooring adds a little more warmth and complete the rural aesthetics of the contemporary kitchen.