A home is your retreat after a hard day's work, and it's only natural that you want to feel comfortable inside your property. But every home can start to lose its charm after a while, and they all need a little revamp from time to time.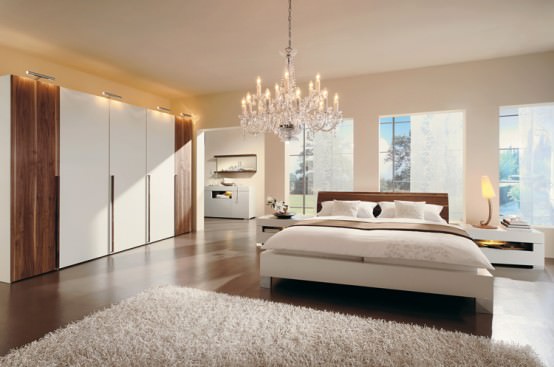 If your home is in need of a little TLC, then it only makes sense that comfort will rank highly on your list of priorities. Here are four easy ways to inject the sense of luxury back into your property. After all, this is what makes a house a home.
A Bed Fit For A King
If the home is to be considered your castle, then the bedroom should be fit for royalty. We spend approximately eight hours of the day sleeping. We're asleep for basically the same amount of time we're at work, so it's important that you make the most of it with a comfortable bed.
A good night's sleep is central to your health and well-being. The bed isn't just the main focus of your bedroom's interior design; it is also the most important piece of furniture that you'll ever own. If there's only one household item where you can afford to splash out extra money, this should be it.
As well as a luxury mattress, you should be sure to purchase quality bedding and pillows. A good bed won't just help you sleep longer, it will help you sleep better too. And your body will thank you.
Redesign The Bathroom
When it comes to home renovations, most people start with the bathroom. The reason for this is that it's easy, it's cheap, and it makes a massive improvement to your life.
Adding a little luxury to your bathroom will go a long way. This is the one place where you can shut yourself away from the world and enjoy some peace and quiet.
While comfort and luxury are high on the agenda, this Bathshop321 post shows that you can still have a little fun and stamp your personality on the room. If you're looking for the perfect starting point for your home renovation plans, the bathroom is a clear winner.
Just think, at least you'll have somewhere to relax and get clean during the restoration process of other rooms.
Enjoy The Garden
A lot of homeowners let their gardens go underappreciated. But these outdoor areas add a completely new dimension to the home and are a fantastic place to relax throughout the summer months. Nothing beats sitting in the cool breeze with a nice cold drink.
You don't need a massive garden to make it enjoyable. Add some appropriate seating and you're set to go. Maintaining the grass and flowers doesn't have to be difficult either, and the rewards of doing it are vast.
Moreover, you could add a patio area with minimal fuss and get a BBQ to make your garden the perfect venue for summer entertainment. What better way to enjoy your home then with friends and family?
A nice, functional garden is a huge luxury for any home. Upgrade yours now.