In November we started to think about decorating the home for a Christmas and comfortable air. Our house is tinged with silver, gold, red, tartan, green and nativity scenes, moss and mistletoe. We can not rest since Christmas is just around the corner, so want to recommend basic to decorate: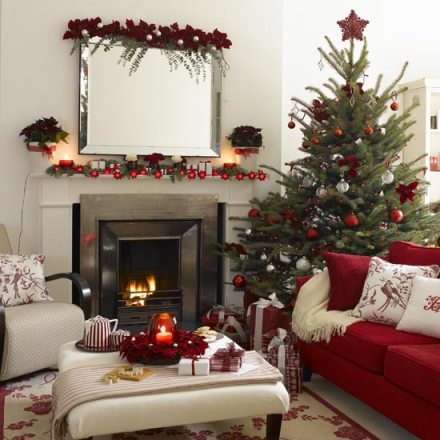 Wreaths on the door: Wreaths on the door will welcome our guests. But not only place a single wreath, you can customize and place pinecones, twigs and cut up Christmas balls inside. And finally, a nice loop to hang the door.
Crown: Meets almost the same function as the garlands, crowns can be made ​​with green fir branches, and can be decorated with balls, apples, stars, cinnamon sticks and even glitter. A crown made ​​from white wool and decorated with ribbons and green and red candles will make that space, a charming place.
Christmas table: The table at Christmas is very important so that you can choose to place centerpieces with scenes from the era, along with plates and napkins with Christmas decorations.
Garden: In case you have a garden, terrace or small balcony, you can decorate it with colored lights, so throughout your home will breathe the spirit of Christmas.
Balls: Christmas balls are ornaments that can not miss at home, so you can pick them between glass, wood and even transparent. And not only serve to decorate the tree, you can play also making shapes or decorate them with ribbons.
Ornaments: Whether you choose a nativity scene or a tree, the ornaments like angels, the baby Jesus, gift packages, stars, candles, and snow swabs can not miss.
Lights: It is necessary to illuminate with candles, garlands of lights, or star-shaped lamps. Lighting is one of the most important parts of the Christmas decorations, so you have to choose it carefully.