If you have a rug, chances are it's going to need cleaning at some point. While some are happy to give it the quick once over with the vacuum cleaner every few months, there are some important reasons why you might seek out professional help. Here are our 5 reasons why you should hire a professional rug cleaning service: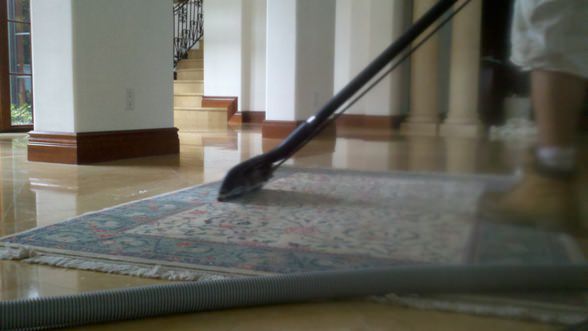 Positive Image
Rugs can be welcoming and add a unique style to a room, but a dirty and damaged old rug can do just the opposite. Whether it's simply entertaining guests or closing an important business deal, keeping your rug clean helps present a positive image to those who visit you. Hiring a professional rug cleaner will get the job done more thoroughly than you could ever do yourself.
Convenience
Let's face it, in today's fast paced world who has the time to get on their hands and knees to try and scrub out wine stains or years of dirt build-up from their rug? Just as you would hire a regular cleaner, gardener, or take your car to a car wash, a rug cleaning service gives you the same convenience. Let the pros do the work so you have the free time to focus on other things.
Advanced Technologies
A rug cleaning specialist is not just some regular Joe with a vacuum cleaner. Rugs are a unique furnishing that bring their own distinct challenges when it comes to cleaning and maintenance. A regular cleaner does not have the experience or expertise to do a thorough job. Did you know different stains often need a completely different cleaning product and removal method?
Rug cleaning specialist have all sorts of advanced technologies that will deep clean your rug, removing years of stains and dirt. Their methods however will never damage the material like some store bought products, and if your rug is already in a bad way they can re-fringe, re-surge, and restore it back to its original condition. Heck, they will even clean the underside of the rug, which most other cleaners ignore.
Prolong Your Rug's Life
Even the most well maintained rug that you clean at least once a week is still going to slowly deteriorate over time. The truth is vacuum cleaners and the odd hand washing does not remove all of the dirt, hair or stains, nor protect it from future damage. A professional clean and repair will keep your rug looking fresh and new for many more years than if you cleaned it yourself.
Save Money
Some rugs are priceless heirlooms, others are extravagant and expensive but replaceable if you have the funds, some are cheaper, but what if you own a hotel with rugs in every room? The fact is if you don't take professional care of your rugs, you're going to end up having to fork out for replacements at some stage, and this could prove very expensive. While hiring a professional rug cleaning service certainly costs money, it may actually save you money in the long run.