Hardwood flooring can last for decades, but that doesn't absolve you of the need for proper maintenance. You have to make sure that you take care of it properly so that it can last as long as it's supposed to. You can do that starting with the tips we've gathered for this list: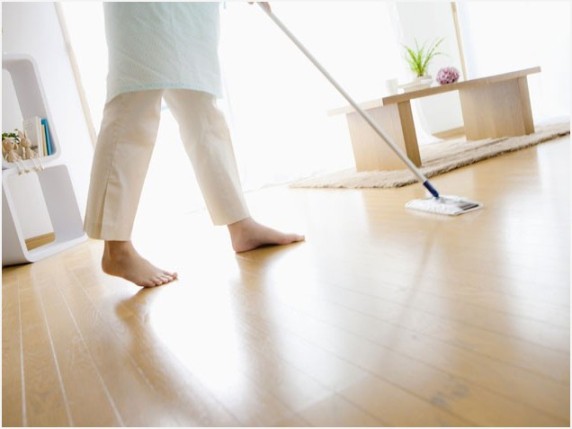 1. Clean it according to schedule. Your daily task is to sweep away the dust. Every week, you have to vacuum with the setting for the bare flooring. Every month, you should use the recommended wood flooring cleaner to clean the floor. You can maintain the coat every 3 to 5 years, and then you can sand and refinish the floor every 20 years or so.
2. Make sure you keep water away from the floor. This means you should avoid using a wet mop for the floor. Use a slightly dampened cloth to wipe away any spills, which you should do right after the accident.
3. Keep high heels and sports cleats away. You need to keep this in mind as the damage can be rather extensive. Even if you weigh just 125 pounds and you're a woman, if your high heels have an exposed heel nail you can really do damage to your wood flooring. Your weight is heavy enough to exert a pressure of up to 8,000 pounds psi. Just about any hardwood won't go undamaged from that kind of pressure.
4. If you have pets, take care of their paws. Keep their paws clean as they can track in lots of dirt from the outside. Their nails should also be trimmed regularly to keep them from scratching the floors.
5. Use felt protectors for furniture legs. You can get stick-on felt protectors easily enough. Use these so you can keep the legs of your furniture from scratching and scuffing your wood flooring. However, you also have to replace those felt protectors often. That's because you can have debris and dust embedded on the pad. They can scratch your wood flooring like sandpaper.
6. Use throw rugs at doorways. This will help reduce the amount of dirt that people can track inside your home. You should also use area rugs for high traffic spots, such as the spot right in front of your kitchen sink. The area rug can also protect the flooring from water drops.
7. Don't even think about sliding your furniture on your floor. It doesn't matter if you have protectors on the legs or not. Your best bet is to have someone to help you lift the furniture to the spot where you want to move it. That should help prevent scratches on your floor.
8. Be careful when you use wax for your floor. Don't use too much of it. You should also just buff your floor if the wax floor has become a bit dull. Prevent the buildup of wax in light traffic areas by applying the wax in these spots in every other waxing session. Remember, you should only reapply the wax when buffing isn't enough to restore the shine to your floor.
9. Whenever in doubt, refer to the manufacturer's recommendations. This rule applies to whatever cleaning agent to use and any cleaning procedure to do. It doesn't matter if the recommendation is another product made by the manufacturer, it's still the best option compared to unknown brands.
10. Use a humidifier during the winter months. These will minimize the gaps in the flooring.
These are 10 easy steps to take, and they should help you take care of your wood flooring for decades to come!