Designing a kitchen in a nice way will help you in making your home look stylish and grand! However, you should know that kitchen designing can be of many types. Of late, white kitchen ideas have become quite popular. You can go for them in order to make your kitchen look stylish and cool. Thus, it will become an envy for others!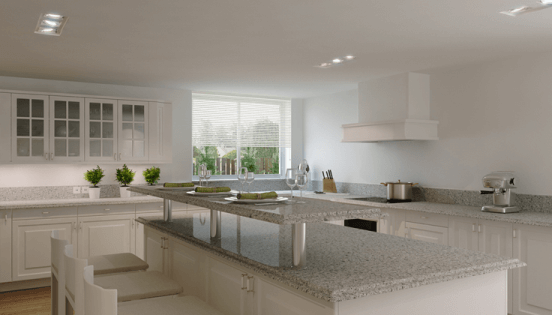 Before you opt for white kitchen ideas, you should note certain things. It is always true that white kitchen can be a pure white sparkling space. You can make it complete with cabinets, counters as well as walls. All these will be perfectly in white. If required you can add a hint of light colors with white cabinets which can help to break up naturally light colored fine woods and stone. Thus, here are few things that you need to take into consideration while you think of white kitchen ideas.
Add a splash of color
You will agree to the fact that a completely white kitchen might give you a medical or clinical feel. If you want to avoid that, then you can add a splash of color to your kitchen even though you are thinking of white kitchen ideas. You can opt for contrasting tones, materials and natural light. Apart from this, you can also choose dark furniture like black or red stools that can give a white kitchen the required contrast to make the space really attractive. You can use color on the floor and the ceiling. Apart from this, you should also note that you can opt for materials with different textures. They will cast unique shadows so that they appear to be darker shades of white.
Go for natural lighting
When you are thinking of white kitchen ideas, you will have to give importance to natural lighting. If you want to make your kitchen comfortable and homely, then you should avoid florescent lights. Natural sunlight can give a nice hue to your white kitchen. Apart from this, it will not create a cold feeling. Allow light to pour in without obstruction from the kitchen window. It will allow the white kitchen to remain well-lit. Also, the window provides proper ventilation which is very essential when you speak of a kitchen. If there is no window, then you can opt for tube-style skylight. They are easy to install, inexpensive and provide a beam of natural light to white kitchen space. You will also be able to get modern light bulbs in natural shades to make your kitchen space look good.
Combination with wood
To add contrast and brightness to your all white kitchen, you can add wood to it. You can use wooden cabinets in your kitchen. Both light and dark woods will add a lovely texture to your kitchen. It will help you create a gorgeous design for your kitchen and will accentuate cabinets within this white kitchen area.
Utilize stainless steel
You will agree to the fact that white will complement well with stainless steel. Thus, you can go for a stainless steel stove, refrigerator, etc. to add glamour to your kitchen. Moreover, this will give your kitchen an ultramodern feel.
With the above mentioned tips and ideas, you will be able to get a stylish kitchen.