The artistic use of drapes has been around for centuries. The ancient Greeks even draped themselves in free flowing materials, not just their windows and archways. Every painting needs a background and every windowed room needs some window treatment.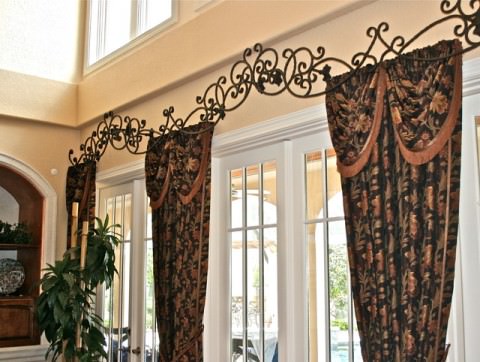 Today however many people don't give their curtains or drapes a second thought when designing their homes or offices, buying the first thing they see when they come to the end of their budget.
If you're doing a spot of decor, here are 5 reasons we believe you should consider using custom drapery:
A Unique Look
Many people begin decorating their rooms with the hope of creating a unique and elaborate style. Yet when it comes to curtains they simply flip through the catalog and pick a matching color.
Drapery itself can transform or reinforce the style of your room. For example the difference between drapes that flow to the floor and those that are stiff and hanging above the floor, can be the difference between an elegant and relaxed atmosphere, and a stern and professional one.
Without a perfect and well considered backdrop, whatever's going on in the foreground is going to have less of an impact. A poor choice could even ruin everything else you've worked on.
Tailor Made
The main benefit of custom drapery is obvious, you can have things made to your exact specifications. Commercial outlets may have several choices, but nothing beats something that is made just for you. In some cases you will also be able to get the input from a drapery expert, who will come to your home, check the measurements, assess the style of the room, and come up with something that's perfect for it.
Honest Opinions
Designers who take pride in their work like www.prestige-decorating.com, will be able to give you an honest opinion of what your room needs and the type of drapes that will suit it. Commercial outlets with cookie cutter choices will have staff that have no real idea about drapery, and who may just nod along or entice you to buy something just so they can make a sale.
Choice
Buying custom drapes also gives you a much broader range of choices than the regular option out there. You can choose the fabric and material, the length, shape and size, patterns or plain colors, blacked out or not blacked out. From pinch pleats to goblet drapes, the possible design styles are also endless.
A good service will also work closely with you throughout the process, making necessary changes and alterations when needed. You won't get this from regular drapes purchased from the store.
For All Budgets
Stylish custom drapes can be made for all budgets. You can go all out with the finest materials and most elaborate designs, but you can also have something made that's unique and complimentary to your room without breaking the bank balance. Custom drapery providers will often be able to give you a quote ahead of time, so you know how much the project is going to cost.