That old saying "Everything old is new again" is true in fashion, home improvement, and decor. Think about all the things you grew up with that are making a comeback. Okay, so the plastic couch covering is likely not to make its way into your home anytime soon, but shag carpeting may.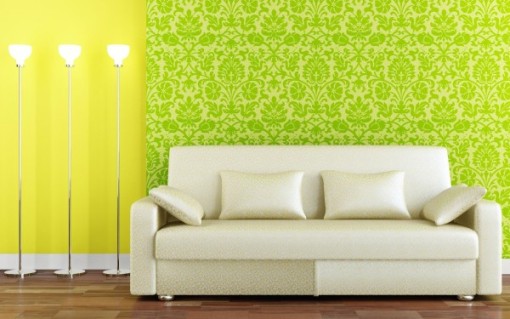 What else is making a strong resurgence into living spaces? Wallpaper. Not just your mother's wallpaper, but more innovative and creative products. With choices abound, it really is giving more texture to walls, and allowing those who don't want to spend a fortune on traditional wallpaper, to achieve the same look.
Wallpaper used to be a real pain in the interior. It was something that any person was supposed to be able to do, but the truth is that not just anyone could do it. Making matters worse, a new generation of home decorators have a real problem with it specifically because of the difficulties involved in removing old wallpaper. A supreme turn-off, those who have had to spend countless hours removing bad wallpaper, insist never again.
Wallpaper used to involve a lot of paste, a straight line and a lot of time. Lining up the edges was something that if you didn't do correctly, you could find yourself in a real conundrum at the end of the run. It also involved that you ordered enough. If you were just one wall short, good luck.
If they didn't come from the same run, you could have wallpaper that didn't match at all. For all those reasons many people opted to have people install their wall paper and it was no small expense for home renovations Winnipeg. That is why wallpaper seemed to be phased out once colourful walls and paint techniques found their way to mainstream.
In recent years, wallpaper has begun to come back. With better production, wallpaper is not only easier to apply, it is better made. With more products to hold the paper with better precision, it really has become something that anyone can do. The best part about wallpaper is that you don't have to go to a store and look through hundreds of books, you can find everything you want online.
With so many online wallpaper discount stores to order from, shopping can take days to months. Being able to order cheap samples, you can try just about any design and color before committing. The best part? You can shop across different sites to find the wallpaper that you want, at a price you can afford. Better paper quality, more vibrant colors, and realistic murals are all the rage for both kids spaces and unique rooms.
The best addition to wallpaper has been the use of "sticker" material. Started with the Fathead company, you could create an entire wall of imaginary scenery that looks so real it is amazing. The real allure is that it doesn't need paste or any tools to apply. The wall murals and stickers come self-contained. You literally have to peel off the back and stick it to the wall.
That does away with the tables, the paste paint rollers, and all the mess. All you have to do is take the back off and smooth it onto the walls. Making these products even better, if you don't want the stickers anymore, all you have to do is peel it from the wall. Literally, when you are done with it, all you have to do is pull a corner and off it comes. No damage is done to your walls and nothing needs to be repaired.
Wall stickers are also preferable because they are nowhere near as expensive as traditional wallpaper. Having an excellent array of products, the colors are outstanding, the time to apply them is a fraction of what wallpaper used to be, and there is no need to hire anyone to help.
You can "wallpaper" an entire room in less than an afternoon and without an extra set of hands. The stickers make it easier to set in place, and to line up the creases. The whole thing is much simpler than wallpaper ever was, and the results are a complete transformation.
One of the only problems with wallpaper and wall stickers is that they are still more expensive than painting a wall. The advantage that they provide is that they can create scenery and inspire the imagination in a way that paint colors never could. Turn any room into an escape, or make your children's room come alive. All you need is a little creativity and just a little bit of spare time.