Most of us can't start out in our dream house. That is what makes it a dream; it is exactly as we want it. If you can't afford to have everything you have always wanted, making it a little nicer than it is now, is a great way to tide you over.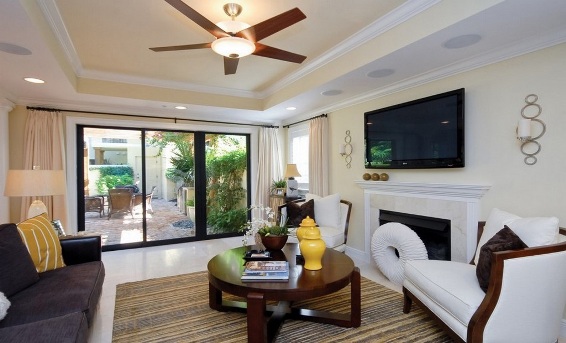 There are some really amazing home improvement projects to undertake that will not only change the spaces you have to make them more warm and inviting, but they also can up the equity in your home. For under $100, these cheap home improvement fixes also won't break the bank.
Making small change can update a room dramatically, and they don't cost you much but a little time and patience. Try these quick fixes that won't cost more than $100.
Bathroom update
If you have an outdated bathroom, simply changing out the faucets can bring it into this decade. Home improvement centers are full of some cool new faucet looks that will make your bathroom shine. Often costing anywhere from $75-$100, it is also something you can do on your own. Simply Google how to change our your faucet, and it can be done in an afternoon, creating a dramatically new look for you powder or bathroom.
Change out a ceiling fan
If you have a ceiling fan from the seventies, it is time to update and upgrade. Choose a neutral new contemporary fan for the space that fits your style and change it yourself. It used to require an electrician, but now all you need is a ladder and the internet. YouTube is loaded with people who are more than happy to go through the steps to help you change out your ceiling fan. Completely transforming an outdated room, a new ceiling fan can breathe life into any space, literally.
Add molding
If you are looking for an updated look or a more traditional style for your home, adding molding to the existing molding is the best way to make it look more stately. It also won't cost you a fortune. Whether you hire someone and buy the material yourself, or rent a saw, it can be done under budget. The cutting is the hardest part.
Once you measure and cut, all that is needed is a hammer and nail to add texture to any ceiling or floor. At most you could spend some money on asbestos removal, in case your walls aren't in a healthy state of condition. Increasing the dramatic look of your room, it is one of the quickest and cheapest upgrades you can achieve for under $100.
New entry way
If your entry door is looking a little shabby, it could be killing your curbside appeal. Consider changing the front door to something more contemporary and definitely something newer. You would be shocked at how much a new entry door can change the overall look of your house. Buy an inexpensive one that you can paint to match the exterior of your home, and one that adds light to the entryway to make an enormous impact.
A new mailbox
The first thing that any visitor is going to encounter on your homestead is the place where you receive mail. If your mailbox looks dilapidated or is all dented and ugly, that is the first and last impression that you are leaving. Changing out a mailbox is not only simple, but it is inexpensive too. Many new mailbox products look very expensive but have a very small price tag. Being able to complete in just a couple of hours, it is not only a cheap fix, but it can also create a lasting effect in just an hour or two.
Hardware
If your kitchen is looking a little drab, consider painting the cabinets and changing out the hardware. Everything looks new again with a fresh coat of paint, and installing new hardware, will make your home look more contemporary. If you don't have the resources to have your dream kitchen right now, painting and adding a more updated look with better pulls and knobs, will hold you over until you can.
There are many quick fixes that not only make your home more livable; they can also make you enjoy it a whole lot more. For under $100, you can make your home updated and definitely more inviting, not only when you return from a long day at work, but when you have friends come calling.