The stairs inside the homes have an irreplaceable practical function, but also can convert your staircase into a cabinet of the house, taking advantage of this space to gain storage place or turning it into the center of the decoration.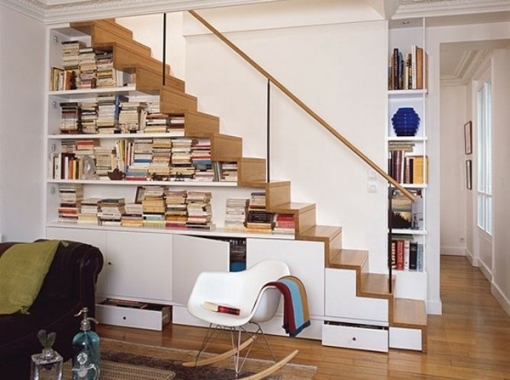 There are some alternatives to convert your staircase in a cabinet of the house, it is the size that is, regardless of the place where it is and the material that is made. However, always it depends on the characteristics of your staircase, because if you decide to integrate it into the decor and give it a use or extra function, at the time of the construction is more likely to have more possibilities and that adaptation is simpler, so that the finish will be much better.
The most common is to use the stairwell, which is under them, to gain storage space so that the gap can be closed with doors, according to your style and taste, and earn a comfortable and practical wardrobe.
If you have a too wide staircase, you may sacrifice part of it, as one end of the steps; the part, for example, that touches the wall can accommodate an entire library with lots of shelves as along the entire staircase and from top to bottom.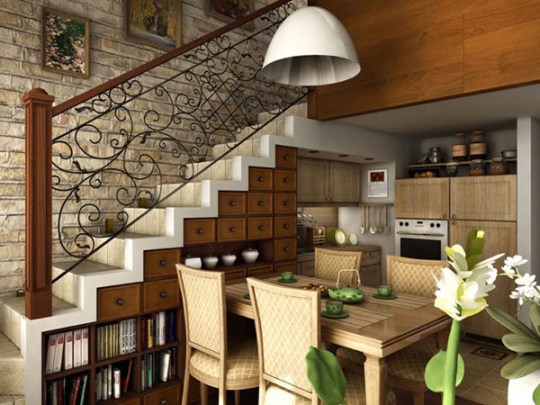 If the staircase connects the kitchen with the top of the house, you can make use the lower part of the stairs to place kitchen appliances. At the top, the refrigerator, then the column of oven and microwave and so on, adjusts it through the slope of the stairs.
The gap left under the staircase can also be converted into a comfortable armchair for reading or napping; depending on the space will be more or less large, but always comfortable and very intimate, perfect.
Convert your staircase in a house cabinet is not only simple and practical, but also a way to give exclusivity and personality to your home.