We are used to having an indoor bathroom with all tightly closed so that no one can see us while we showered, and this is not bad … as long as we do not know the feeling of showering outdoors when the weather allows it. It's a so liberating feeling that if ever we practice, we might want to put an outside shower at home in case we have space in our garden to achieve it. The outdoor showers are a good investment.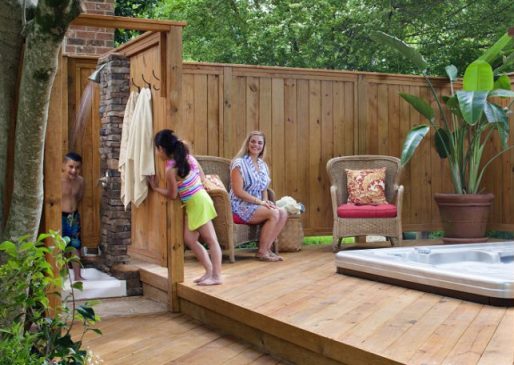 Currently there are many designs and opportunities to be able to have showers on the outside of your home and you can enjoy an atypical shower while listening to the birds sing and you can see the blue sky and white clouds above your head. It is relaxing and does not have to see anyone if you consider privacy and you can install items that avoid prying eyes.
It's relaxing
Take a shower in an outdoor can be even more relaxing than if you do inside your home where you feel locked. When the weather permits, or if you live in an area of the world where there is good weather all year, outdoor showers will certainly be good choices for you. You will relax, you will forget the stress and you'll have the opportunity to connect with you and with nature.




Not much gets dirty
When you have outdoor showers you will realize how much you dirty your indoor bathroom, besides having no glass or exterior screens will be much easier to have everything clean and in good order. While you shower you can have a rag at hand to be able to go cleaning and that you have everything picked out. Only you have to worry about cleaning it thoroughly once a month.
Water the plants while bathing
Like you laugh at the thought but are quite handy and you can even have plants near the shower to have a more tropical look. Bear in mind taking precautions so that soap does not fall down while you wash yourself, but the clear water will do very well to grow healthy and strong and also they make feel even better while you bathe.
Time does not have to be a problem
An outdoor shower is great when the weather is good, but what if it's cold? Can you not use shower until the good weather? Certainly a hot shower while it's cold also is an experience that is hard to explain, since the hot water will help you there is a steam around you to protect yourself from the cold and if you have a warm towel around you, much better!
Also when it rains you can also use your outside shower and wash your hair with rain water! The rainwater is fabulous for the hair and feels that you are fully connected with nature.
It is esthetic
If you choose a nice shower for your garden that have wooden planks and provide a warm effect to the environment, then you will realize how besides being a practical shower will bring much appeal, glamour and elegance to your garden.
Use it anytime
Also, you can use it day or night. During the day you can enjoy natural light and at night you must only think of illuminating artificially and that is also enjoyable for you.
Are you lucky enough to have one in your home or you're thinking of finding some of the outdoor showers that are on the market to enjoy your special showers?