The lack of space is now a problem that is often found in any contemporary home, so by the hand of the decor is possible to find alternatives to create pleasant surroundings, attractive and at the same time practical.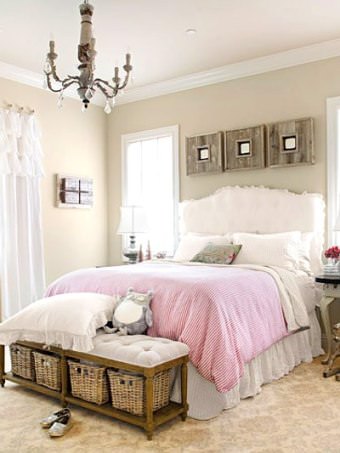 There are solutions to gain space in the bedroom as well as thousands of ideas for other rooms of a house, and in this case we see a very simple way to add more storage space. Through an easy proposition to incorporate a stay, it is possible return on an interior surface and thereby achieves a more pleasant environment.
In this case, it is multifunction furniture that attaches to the footboard, such as a single piece which can increase the useful storage space in the bedroom. If still you have not decorated the area of the footboard, this proposal can serve as inspiration for you to choose the furniture that best suits the dimensions of your room, it is ideal for those with a rectangular plan, because it makes better space.
A continuous bench serves as a booster seat in the bedroom, located at the bedside can also be used to rest pillows and cushions when you don't need them. Made of wood, this bank was accompanied by a mattress in a tone to match the bedding which makes it more comfortable.
To complete the versatility of this furniture has an interior space that hosts a number of baskets. This space can also accommodate boxes or baskets of material that best matches the decor of the room, and within organizing accessories.
In sum, this furniture becomes a decorative piece that brings comfort, plus an always useful space to organize items and maximize every inch of surface available to the environment.