The terrace, a space that is main character in seasons of good weather, this space that in summer and spring comes new life, color and charm, can be renewed so that it improves both functionality and aesthetics, we show you an attractive proposal.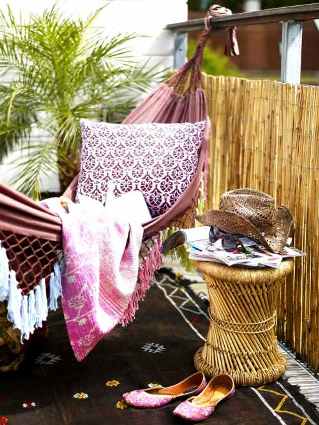 This idea to renew the terrace with warmth, allows you to incorporate elements that evoke nature, ideal for creating a very attractive set with the company of the sun and the fresh air.
Incorporates to the terrace a rocker or a hammock, which come in different models and sizes so you can adapt them to spaces of different sizes. Dress them with fabrics, blankets, pillows and cushions to make them more comfortable.
Textiles provide a cozy atmosphere, color and allow you to customize the environment, combined colors and that harmonize. In addition to creates a set that is pleasant to your eyes, to invite the enjoyment and relaxation.
Blankets for when the day becomes fresher, in addition to cushions and if you want a carpet will complement this beautiful set of fabrics.
To add more warmth to the atmosphere of a terrace includes wicker, this natural material, will not go unnoticed and simplicity will add beauty to the decor. Some ideas to bring to an outdoors space are: furniture and decorative accessories such as stools, side tables, trays, there are many forms and alternatives, also in fences that are easy to install and provide more privacy to the space.
Bet on a mixture of fabrics and wicker, you get a completely renovated and cozy atmosphere.