Awnings are perfect for placing in gardens, terraces and balconies in the autumn, a time when the cold and the rain begins. The awnings help protect against low temperatures, so we tell you what are the different types of awnings that exist so that you choose the one that suits you.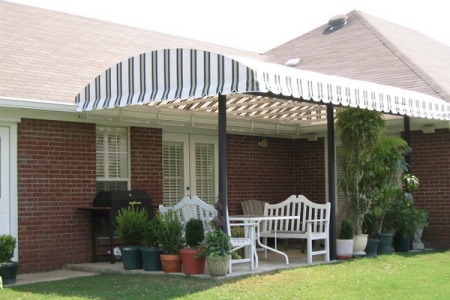 If space is bigger we are better recommend a pergola, but if space is small it is best to opt for drop-arm awnings that are most commonly used in shops and restaurant terraces. They are easy to use, comfortable and very practical due to operating with a system of folding arms that can be reinforced with springs to protect from the rain and wind.
You can also choose vertical awnings that are known as blinds. These are unwound vertically and placed on the railing of the balcony with a pin. While the extendable awnings have a transmission system on the arms that can be belt, cable, chain or double integrated tension. They are very precise and can be placed on a roof, on the front or side of the terrace.
Flat awnings are ideal for covering large patios and terraces and is placed horizontally. And for small windows recommended canopies that can be square or semi-curved, and fixed type. If you have chosen awnings instead of pergolas, we recommend placing mosquito nets to protect them from cold, so you can still enjoy the outdoors in autumn, and also take advantage of the good days of winter.
And if you live in an area where winter is strong, it is best to install an awning with aluminum cassette, so protect it from wind, rain and snow. Remember that when you go to pick up the awning must be dry, so it will not be damaged.