A louvered roof (or slatted roof) provides shade, warmth and beauty. Louvered windows have been used for years. Reinventing the louvered window, louvered roofs used the same principle design. Louvre roofs are used for many types of entertaining areas like pools, barbecuing areas, backyards, etc. A true louvered roof is able to open 180 degrees and is suitable for flat roof. Many people are not familiar with the benefits and types of louvered roofs, so here is a short review: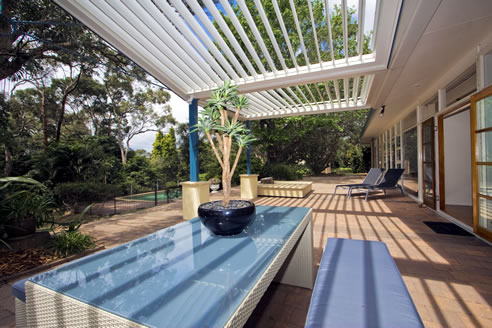 Benefits of Louvered Roofs
Louvered roofs have benefits during different seasons and weather.
Winter: During the winter season, the whole house becomes dump and cold. People want sunlight for comfort. Big houses consists of open and airy spaces, but small houses without open spaces get so damp that people become very uncomfortable with cold. Specially, children are prone to catching colds. A louvered roof, however, allows the sunlight to shine directly on your house. You can keep the roof fully open during the day in cold months to get sunlight and can close it whenever you want.
Summer: Unlike the winter season, you can face excessive heat in summer. You may feel suffocated in your closed home if you don't have a good air conditioning system or ventilation. Many people whose houses don't have a proper ventilation system have a miserable time in summer. Louvered roofs can provide proper ventilation. If it is partially closed, it can allow the air to circulate without direct sunlight.
Rain: Louvered roofs can protect your open spaces from rain whenever you need cover. Simply close the roof and you can enjoy the rain whenever you want.
UV Light: UV rays are very harmful to the human body. Louvered roofs block the harsh UV sunlight and provide full protection to you and your family.
Types of Louvered Roofs
There are several types of louvre roofs. Before consulting a contractor, you need to know about the types so that you can choose one easily.
Aluminium: Louvered roofs can be made of anodized or coated aluminium. Aluminium louvers are amazingly resistant to weather. They can be painted any color that suits your home. They are also lightweight.
Steel: Another type of common louvered roof is made of steel. They are generally manufactured in different color. They have excellent protective qualities against fire, storms, and rot. The rain will not damage steel louvered roofs.
Translucent: UV-protected, translucent materials are used to provide filtered light to the louvered area, and it is very suitable for rainy days.
Automated or Manual: Louvered roofs can be electronic or manual. These can be operated by sensor or remote control. Manually controlled louvers means that you control the opening and shutting by hand. In an automatic system, the louvers operate on a sensor. For example, when it starts to rain, the roof will automatically close.
New or Existing Structure: An existing area can be made fit for louvered roof, or you can add a louvered roof on a new structure.
Louvered roof specialists can design and install a louvered roof. It is not your typical roof design. Louvered roofs are different from each another, so without proper installation, you may face several problems. Before going to a louvered roof builder, you need to know the different types, construction materials, and their uses so that you can decide which one is perfect for you.
Author Bio:
Kristine Jone is the author of this article. She is a professional blogger who has an extensive knowledge about louvered roofs. She has had numerous articles published on the Internet that cover a wide range of topics related to louvre roof. Moreover, in writing, her focus was on benefits and types of louvered roofs.