For a carpet we can seize it for a long time, it is necessary to perform a proper cleaning, this is something very obvious because in addition to ensure disinfection, also remove mites. But certainly, for a carpet remains perfect as the first day, the most important thing is to never leave a stain to dry. In this we emphasize, because a mistake or perhaps one "already clean it later", we can play tricks and shorten the life of our carpets.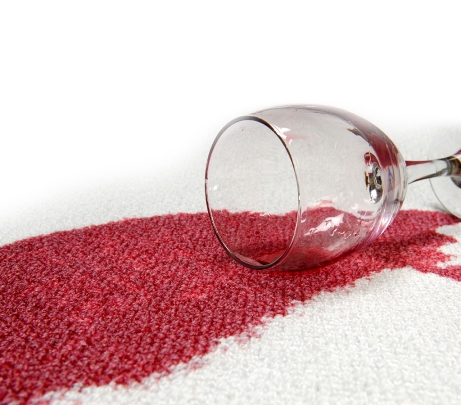 As we do not want that happening, today in thousand Ideas, we have some home tricks, the most common and simple that will serve to eliminate the most common stains on the carpet, for if such misfortune, that you know how to act. Ready? Let's see them.
How to remove pet stains
There is so much what can go over to him to want to a pet, that directly, are part of the family, but sometimes we go saint to heaven when our puppy or kitten does their needs in the new carpet. Well, do not panic, to eliminate them, we will remove with a napkin all remaining dirt, and then we will make a solution of warm water with ammonia soap, and clean up the area to be treated. Then we will leave it to dry. Especially for wool, felt and acrylic carpets with short hair and polyester.
How to remove stains from fruit, coffee, milk, tea, wine, sauces or eggs
This wide range of unwanted stains on the carpet has a simple solution. We use a little warm water with detergent and vinegar. We will apply this solution with a sponge and after awhile, clarify with a damp cloth and let dry.
How to remove stains from wax, bitumen, oil and grease
To remove these types of stains, we use a special solvent for dry cleaning, which you can find in any drugstore or specialized store.
How to remove stains from paint, nail polish, chewing gum, acetone or carmine
To get rid of these spots so ostentatious, first we will also use the special solvent for dry cleaning. Then, we have to moisten the stain with a solution of warm water with neutral detergent and vinegar. And finally, a new application of the solvent.
How to remove stains from mud or dirt
For this type of stain, you do need to let it dry. When the fabric is dry, we brush well the area and apply a solution of water and ammonia (three parts of water to one part ammonia).
As you see, these are good simple tasks. Carpets to last for many years, it is best to make daily maintenance with vacuum cleaner, and when such spots arise, act at that time.