The expression half-painted, the term is applied to the decoration and means something that has been left half painted intentionally. Trying to paint things in half, stand out much more or surfaces in a different tone. It can be applied to walls, facades and paint the wall up to half a color, and choose another one for the rest. You could also paint a small corner of a striking color; this space is going to stand out, without taking away luminosity to the rest. It is a creative technique, and very original.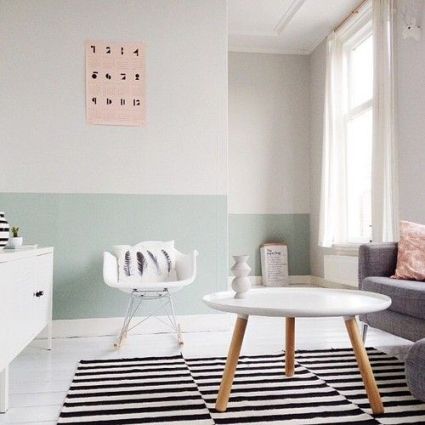 Know the applications of this trend in decoration
Without using the tape to delimit: You can pass the roller and create the uneven effect, you can use two different colors, which create a contrast.
You can also paint the bottom of one color and the top of another: There is a lot of contrast the stronger or more striking color down and the neutral colors for the higher part, the effect is to create different spaces. You have to use a lot of creativity to distribute the furniture, and the other decorative elements, to help achieve the effect.
You can also use the finish in a straight line: By reserving the lighter and neutral colors for the top. In this technique, there are no rules and if they are, you can break them. You can invert the colors, and create more recharged environments that depend on your character, and personality.
You can apply a gradient: They are those who dare and take their creativity a little further, creating really delicate and different spaces.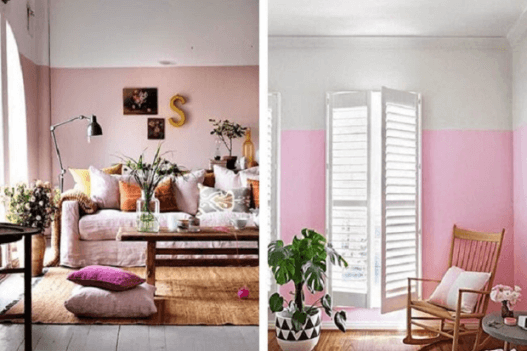 Another option is half painted with zigzag separation: They can be used on walls and other decorative elements such as furniture, chairs. The spaces can become sober and elegant or more informal and fun.
Apply it in the dining room, bedroom, or bathroom: You will get a great result when playing with pastel shades, causing the paint to disappear, or contrasting with the material of your wooden furniture. The colors stand out with the technique.
It is a good choice to give a modern touch to the furniture, or if you get bored of a wall, or to totally change the look of a room. Use your creativity to the fullest and have fun.