There are so many types of gardeners. The weekend gardener, the retiree gardener, the "I want to be more green thumbed" gardener, the indoor plants only gardener, the "I only plant flowers" gardener, the permaculture gardener, the time poor gardener, and the list goes on. And for every type of gardener there is some form of garden maintenance that they avoid doing, or can't do.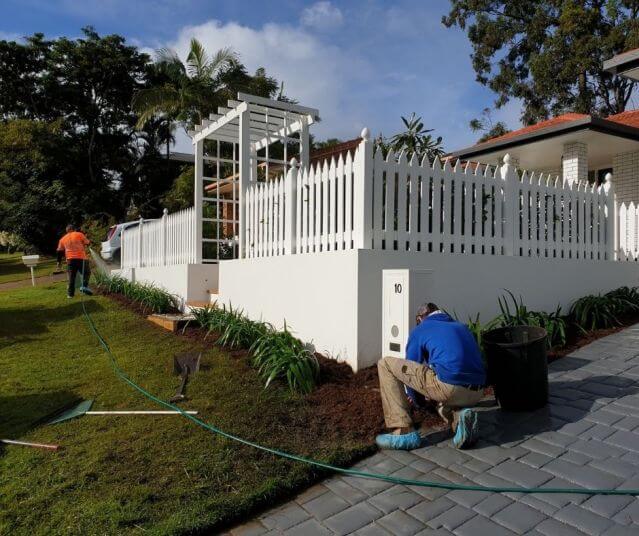 Older gardeners sometimes need help with pruning of larger trees, weekend gardeners realise that they don't actually have time to mow the lawn every fortnight and the new to gardening gardener who needs more assistance than they thought just to get the garden beds right!
The reality is that we can't do everything and it is ok to ask for help! Talk to a garden maintenance service about doing the things in the garden that you can't do or (let's be honest) don't enjoy doing or simply don't have time to do.
Putting an irrigation system in a time consuming, fiddly and, really the job for an expert. Muching, while incredibly beneficial for your garden, is hard and tiring work, retaining walls are just too big to think about as a backyard gardener, and hedge trimming needs a very precise eye. Leave these aspects of garden maintenance to the professionals so you can focus on the gardening you enjoy. The planting, the meditative task of pick out the weeds, the quiet deadheading of roses and other flowers or planning and planting of the perfect veggie patch.
By engaging a garden maintenance service once a week, fortnight or month you will be able to enjoy doing the things you love in the garden and also have more time to do those things as someone else will take care of the things you don't enjoy or are unable to do.
When you are doing your research for a garden maintenance service you should check the reviews, recommendations from friends and family, check out their social media accounts. If a company is proud of their work they will share it on Facebook or Instagram. If they don't have social media, ask to see examples of their work.
What about the people out there who have no interest in gardening what so ever but love to use their garden as another room to enjoy? A place to enjoy friends and family, a place for the kids to play. That is a perfectly legitimate reason to employ a garden maintenance service too. Why pretend? Enjoy the space and let someone else do the work.
Whatever type of gardener, or non gardener you are, enjoy your garden and all it has to offer. You don't have to like gardening to enjoy a garden.