Many of the subdivisions that have created Toronto's newest neighbourhoods have homes that share a lot of qualities. With a mixture of brick, stucco, and small lawns, these homes have very few details distinguishing them from one another. They're nothing like the distinctive, Victorian houses found in the city's High Park or Rosedale neighbourhoods. If you've recently purchased or are looking to sell a house in a new division and want to make your home standout, consider making unique additions to your landscaping.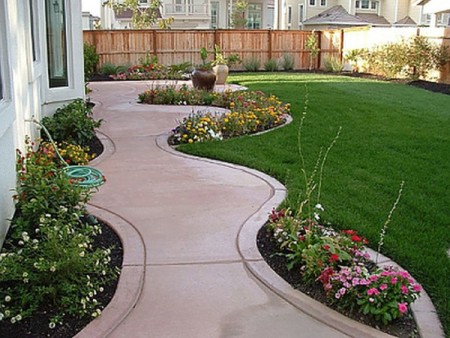 An attractive, distinctive home is essential for your curb appeal, as first impressions are incredibly important when your house is on the market. For those who are looking to buy, if your property looks inviting from the outside, then it is more than likely worth a tour of the inside. According to a recent survey conducted by the National Association of Realtors, curb appeal accounts for the reason why homebuyers decide on the home they buy 71% of the time.
Choosing a landscaping investment that includes concrete as material will pay a huge return to your home's value. It's an inexpensive, easy to work with material that mimics the more expensive look of luxury stones. While convincing your neighbours that you laid a pathway of flagstone, you can hide the reality, which is your concrete was faster to install and easier to maintain than any other landscaping stone on the market. With simple cleaning maintenance and a colour-fasting sealant, your pathway can stay looking great for years to come.
There isn't an endless list of contractors that can lay long-lasting and beautiful concrete in a variety of styles, so you will have to sift through mediocre services before you find the best concrete contractors in Toronto. This can be an easy process when you take a look at a gallery of their finished work and comparing it to the reviews left by their previous customers. By this technique, you'll find that Elite Concrete has a beautiful portfolio of landscaping projects, and all of their customers have left raving reviews about their fast, dependable, and friendly service.
The right company can help a Toronto homeowner when it comes to creating stunning concrete landscaping. With their help, your home in a neighbourhood of cookie-cutter houses will stand out – for all of the right reasons. Whether it's a new home you intend to keep for years or it's an old home you hope to sell, the addition of beautiful, concrete landscaping is one of the best things you can do for your property.