A loft style house is usually a home with airy, spacious, which ignore walls, which are usually used to separate the different functions of a home. In a loft, the rooms are divided with the help of various decorative resources, while other resources could also be applied to provide the decoration of rooms with loft style.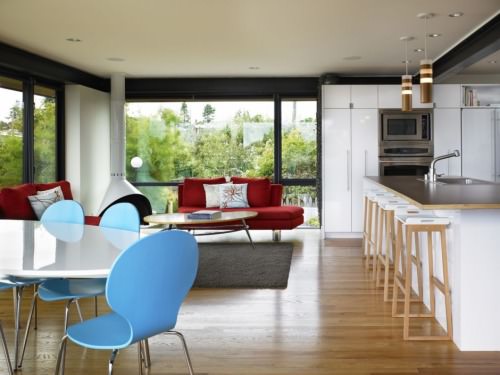 In a loft the rooms are integrated, the kitchen and dining room share the space and a seating area, like the living room, it is a loft, a spacious environment, boundless and versatile.
Following this model, you can create a loft style living room in any type of housing, implementing some tips:
If possible, remove partitions or partitions that exist between the living room and another room will be a useful measure to visually expand the space and compose the loft style in this interior.
To physically separate the living area from other areas of the home, may be resorted to furniture, such as a bookcase or rack, or half-height partitions.
Another resource to create this visual division between the living room and the rest of the house, is to define a limit using a carpet, which should cover the entire perimeter of the area to define.
The colors can also be used to mark a boundary between the different functions of the house, i.e., could provide the living room decorated with a set of colors that stand out from other tones used in the rooms.

The colors could be applied to walls, carpets, furniture, curtains and other decorative accessories.

Another trick to create the loft effect into a living room is to achieve uniformity in the pavement. The cement floors is a perfect alternative to provide a pavement with a new style and a smooth appearance in both color and texture.