At the time of equipping a kitchen might make a choice to the detail of each piece that conforms, in order to create a pleasant environment. Planning the design of this space and selecting the elements according to usage needs, but above all seeking a balance between usability and good design, so that the kitchen is attractive and practical.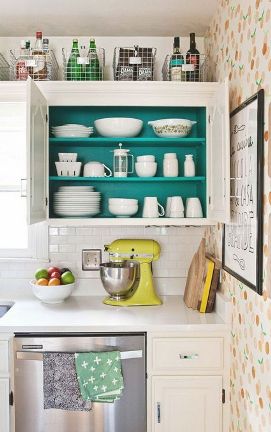 In any kitchens have furniture, appliances and utensils that complete the household, in some cases include areas for a dining room, a mini office, breakfast bars, and as areas for wash. So it becomes a multipurpose space, where each family develops different activities.
For all these reasons it is important to complete this home stay with all kitchen tools, appliances and furniture that meets the needs and habits of each house. Currently, the advantage is that there is a wide variety of products to create bespoke spaces, materials, accessories and objects to suit different requirements, incorporating the latest technologies and enabling give life to stylish interiors.
Some of the ideas for decorating modern and beautiful kitchens, including racks and other furniture, which besides offering special compartments for pots, pans or trays for example, useful to better organize and monetize the space, have wide storage area. This furniture can be chosen in different materials and finishes, as with fronts without doors or windows, bringing a lighter look, but which require always keep them in order.
The trick to add a fun and contemporary wink to the furniture is to use vibrant colors and intense in the designs, applied in interiors that remain or not visible, on shelves, or even hardware which in turn currently can obtained in different designs and finishes, it can be responsible for adding personal detail to furniture.
Do not forget the variety of lighting pieces that provide design and beauty to the kitchen, creating light points that highlight certain areas and add functionality and comfort need in working areas and in other areas of the room.
Finally, with the help of appliances can add a plus design and colorful contemporary kitchens, as manufacturers create models of artifacts that bring practical benefits with shapes and modern designs.