If you are looking for an electrician, it can seem at first like a daunting task. However, if you focus on finding an electrician that provides exactly the service you are looking for, you'll quickly be able to narrow own the field.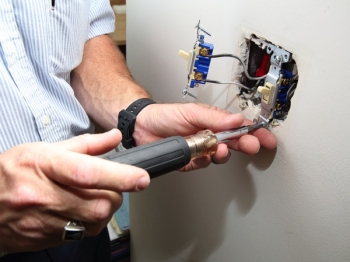 It's important to understand that electricians aren't all the same; they tend to specialize. For example, some concentrate primarily in providing electrical services for new builds whereas others only do commercial projects. Some provide emergency services while others don't. Before you hire an electrician, be sure you understand exactly what services they provide and whether their areas of expertise are in line with your needs. All electricians can handle basic fixes and installations, but there's no need to hire a Master Electrician (and to pay their higher rates) when the job can be expertly tackled by a Journeyman Electrician.
If you are having your home remodeled, your general contractor will have a list of dependable electricians with whom he generally works, but when it comes to finding an electrician for stand-alone electrical work (outside of the umbrella of a renovation or home build) a good place to find an electrician is to consult your local home builder's association. They can provide you with a list of licensed, reputable electricians who can provide the services you are seeking. They are your best resource for finding the right electrician for your particular needs.
One of the most important things to remember when hiring an electrician is to always ask to see proof of their qualifications. This will take the form of their state license as well as their proof of insurance. Never, ever hire an electrician that is either unable or hesitant to provide you with both of these forms of paperwork as this could be a very big red flag. An electrician should generally carry no less than $500,000 in both workers' compensation for the entire crew and liability insurance. Without those things, you could be liable for any injuries sustained while the electrician is working on your property.
Hiring an electrician can be a straightforward experience if you know where to look. Don't hire the first person you interview (and you should always interview potential electricians) and never opt for simply the cheapest price. This is a case in which you almost always get what you pay for. That is not to say that the most expensive electrician will automatically provide top-notch service, but if you receive an estimate that is much below the others, there could be a reason for it. Unusually low estimates could be an indication that the electrician is cutting corners, and that's not a risk you want to take when it comes to having electrical work done in your home. Keep your home and your family safe by hiring someone who really knows what he's doing.