One of the pieces of furniture that can be integrated into a kitchen in every apartment or contemporary home is a center island. Which will be transformed into an element that brings more warehouse space, improve comfort and add style to the decoration.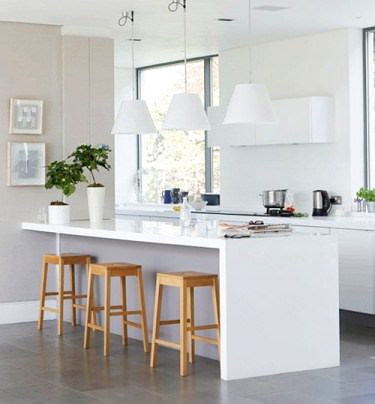 This unit can receive many and different applications in a modern kitchen, always resulting in a practical element, that also if choose the model correctly, you may add appeal to the interior.
In the kitchen a modern center island, with a design according to the aesthetics of the space. A multifunction piece that finds a place of prominence in the stay, both by its format and by the functions it provides.
In this case the island offers a wide contact surface, ideal for working where food is prepared. A similar model is an interesting solution to integrate kitchens that do not have enough space on the tops, so that the central island provide more auxiliary surface.
It is also feasible to use for quick meals, breakfasts, snacks, also serve to prepare our favorite recipes. We just need to integrate a few stools, with designs that harmonize with the decor of the room and preferably can hide inside the cabinet when not in use.
This model offers cutting-edge aesthetics, highlighting the clean, simple lines, and a counter running along the top of the cabinet and one side, an elegant finish. The white lacquered high gloss finish is another detail that adds luxury and modern flair to the design.
Complete the ambience lighting consisting of a series of chandeliers that hang over the center island. These crown lights the presence of furniture and offer a spotlight to the area, perfect match to create a comfortable and functional environment work.
At the time of incorporating a kitchen island it is important to consider the possibility of completing with areas of cooking or washing, which enhances its character and function.