Online shopping has become quite popular in the recent years and in particular shopping for home decor. There are a wide variety of decor pieces that you can buy in order to accentuate the beauty of every room in your house. It's very important that you don't crowd your place with too many things and only choose a few pieces to round off the room's theme.
Some great home decor pieces are: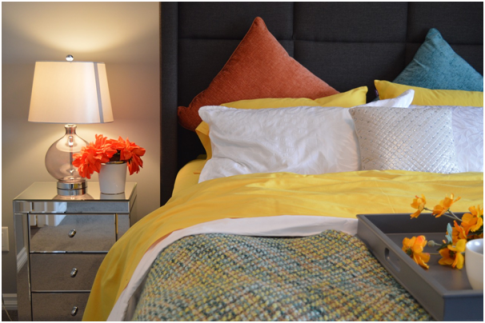 Throws and pillows
When it comes to home decor, the first things you think about are furniture, wall art and rugs. Soft furnishings like pillows, throws, quilt covers are usually something you only think about later. Although they might not be popular, they can really help to bring together a room as a whole. There are many online stores where you can shop for curtains, cushions and quilt covers online but make sure to look around before choosing the ideal pieces.
Clocks
Clocks may be small but the right piece or pieces can really add some drama to a room. If your room is in a single monotone colour, why not add a dramatic clock in a bold colour for some pop and a talking point for when guests come over? There are a wide range of clocks; wall clocks, outdoor clocks and grandfather clocks so it is a matter of personal choice and going with something that suits your decor or theme.
Soft window furnishings
Soft window furnishings can really help to liven a room and give it some definition and order. Along with providing privacy, it can also keep the house warm or cold depending on the furnishing type and the fabric used. The type of furnishing you choose can give your room a different look. If you decide to go for a ceiling to floor length window cover, it can elongate your room and give it some additional height whilst a smaller window drape will give the illusion of a smaller and more compact room.
Wall Art
Wall art can be a great way to add some colour and life into a room. It can be a great statement piece if the rest of the decor are kept simple and monotonous. Depending on your room's theme, you have the choice to opt for modern, vintage or classic replicas and really add some drama to the chosen room. It is vital that with all other decor, you don't crowd one room with different types of wall decor as it can be distracting and take away from the initial look you were going for with the room.
Area Rugs
Area rugs are great multipurpose piece as they can add a pop of colour, help to define an area in a single room, add some warmth under the feet during those cool nights and just bring the whole theme together. When looking for an area rug, think about the foot traffic the particular area gets and then choose a colour and fabric accordingly. A light colour might not be the best for an area with lot of children as it might get dirty very quickly. A well-chosen rug can really help to enliven the room.
Home decor are as important as the main furnishings themselves as they help to add some colour, accentuate and finally bring the whole look together to give the room a sense of completeness. Shopping for decor online can be tricky with all the options available however if you go with a definite plan and have a theme in mind, you will be able to get all the matching pieces for your place.