Tough and durable, this floor covering any field mimics the traditional wooden floors to perfection. It also surprises with its original and surprising scenery offers. Discover the 4 points for choosing its laminate and our range of ideas.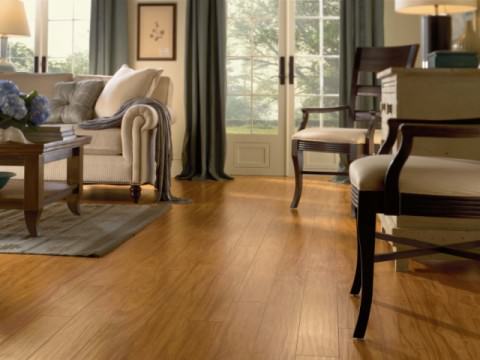 A hybrid flooring
The laminate is composed of a printed decorative sheet protected by a resin and placed on a panel of high density fibreboard (HDF).
To choose, refer to the classification indicated by pictograms on the packaging. It corresponds to its wear resistance and provides information on the product line with each piece. Class 21 designated products to put in low-pass pieces as a bedroom; Class 22, those who go into parts of life, such residence; when labeled with class 23 will be in places of entrance passage or stairs.
A wide choice of decor
The variety of designs is infinite: the laminates perfectly reproduce all types of wood (oak, maple, pine, exotic wood …). And the presence of chamfered edges on the sides helps strengthen the impression of traditional parquet. They can very well take the shape of the stone, concrete, tiles, cement tiles or singling displaying an unusual setting.
An easy to live material
From a very reasonable cost – €15 to €45 m2, laminates are within the reach of everyone. First-time buyers choose an entry level product, as tenants. However, this may be worth investing in more high-end models that are a more realistic look, are cared for and a simpler installation. But it is especially on their best performing sound insulation, they make the difference. In general, the laminate is easygoing, resistant to stains, burns, and chemical and impact resistance. Be aware, however, that it fears scratches because it can not be sanded or renovated, however the blades can be replaced. Maintenance is also easy: vacuum and wet mop.
Perfect for renovation
With its small thickness from 6 to 12 mm, the laminate passes where a prosecutor does not succeed and can be implemented over ground already covered with tiles, parquet, vinyl or clean carpet (which will replace or complete the insulating underlay). If although the laminate invests every room of the house, including the bathroom and kitchen or the entrance or stairs. As it takes place easily through a floating installation: the blades assembled together form a continuous coating, stabilized by its weight. Sizing has disappeared in favor of a clip in which each blade fits into the previous and locks mechanically. The simplicity and speed of implementation are unbeatable and this assembly can be dismantled and reassembled as needed to change a damaged blade, for example.