Who does not like to feel comfortable in their living room and enjoy a good moment of intimacy where pleasure and comfort are insured? Also we like to share good times with our loved ones in this room. And the living room is the room of the house which we share more with others (friends and family) because it is a common area… and the colors are an important part of this place.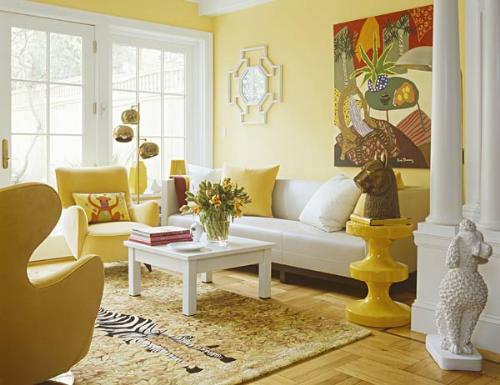 The common areas of the house are the places where we can live intimacy moments in solitude or share great moments of leisure with our friends and family. But in order to really enjoy the stay as well as thinking about the decor you must have very clear the colors that you want to have in your stay.
Think about the colors that you like is easy, but what can be a bit more complicated is to choose colors that are beautiful or attractive and combine with others to fit perfectly into your living home. What is needed to get the colors you choose to combine with each other and bring you good feeling and comfort just by entering the room (along with the rest of the decor). But if you need ideas because you have trouble choosing palettes that combine, do not forget these ideas.
Spring palette
In this palette you can find spring colors to help you make your living room becomes a cozy and comfortable place. All the colors that we are going to describe have different colors, so you have to choose those that you like and which of course, fit with the rest of the colors.
Sky blue: Ideal for accent colors such as chairs or tables, or for decorating the walls. Do you prefer to decorate the ceiling with sky blue to mimic the clarity of the sky? Go ahead!
Green grass: The green grass has a vibrant color that will give a touch of nature, you can use it in small doses as small furniture or shelves.
Beige: The beige color is a neutral color that is ideal for combining with any other color. It's a great tone for the background of the prints or for those rooms where you want to incorporate the black (or other darker) in the decoration.
Coral: The coral color is a beautiful color that is fashionable and no doubt you'll love how it will be in the decoration of any of your stay. It is a color full of energy and elegance that can be used both for walls, textile or complements.
Pale yellow: The pale yellow is a good color for decorating in the halls and which will help you to have a natural light in your living room that will provide great comfort to your stay. You can paint the walls with this color or use textiles in combination with any of the other colors that fit well in the decoration.
Indigo: The indigo color is a combination of purple and blue that is very attractive for use on small details or accessories in the decoration of the room. And if you want to feel all the energy of this color you can choose to paint an accent wall, you will love it!
Leather color: The leather color is dark brown almost black may seem too dull for your home, but the reality is that it can function as a neutral color. It is ideal for use in a studio or in a place where concentration is required (for example if you have a studio in your living room, so you can differentiate it from the rest of the stay).