The exterior decoration takes center stage in the spring and summer, and the gardens, terraces and porches are the stars at this time. So if we have an outdoor space in our home, we will pay attention to both the decor and the distribution since we spend many hours and moments in those spaces.
The keys in the exterior decoration: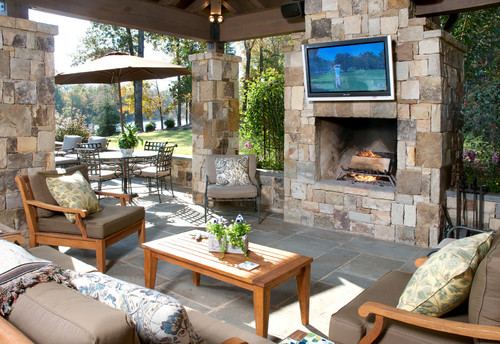 Climate of the stay
One of the important factors for proper decoration on terraces, porches and gardens is to consider the weather. It is not the same to decorate in a very warm area which in another cooler one. If it is for example a very sunny and warm area it is essential to have a beautiful umbrella. Conversely, if the zone is cooler, it is important that it is protected from the possible flows.
Maintenance of stay
As with the previous factor, in this case the maintenance will be totally different depending on the weather that we have. In addition, the furniture chosen for each type of stay will also be different because some furniture needs major maintenance is very exposed to the sun or different inclement weather. In winter it is recommended that they are protected.
Space of the stay
Space is essential before starting to decorate any garden, terrace or porch. It will not be the same as a large garden and with space, that a smaller terrace.
The key is to find complete and appropriate furniture for each space. If the space is small we will have to be careful at the time of choosing both the elements and the colors that are used.
Uses of stay
Before decorating, we must also take into account the use to which it will provide. For example, if we have enough space and there are children at home, we can decorate a terrace with a playground. On the other hand, if it is to be used as outdoor dining, we must equip it with a large table for this purpose.
Integrated with the surrounding decoration
Another aspect to consider is the integration with the environment. It is not the same to decorate a garden or a cottage then a city terrace. In the case of the first two it is recommended that they are much more integrated in nature, but in the case of a city terrace, you can do a more urbanite decoration.
Style for the stay
The style to decorate the stay of exterior is also very important. Each style will need some accessories and furniture depending on the above factors, it will be necessary to use a type of furniture or other. It is not the same a Mediterranean style, a chill out style, a terrace of romantic style or a terrace of Zen style.