Decorating your home at Christmas doesn't have to be expensive. You can always approach a short-term lender, but if you don't like the idea of taking out a loan we're going to give you some smart tips for decorating your home this Christmas.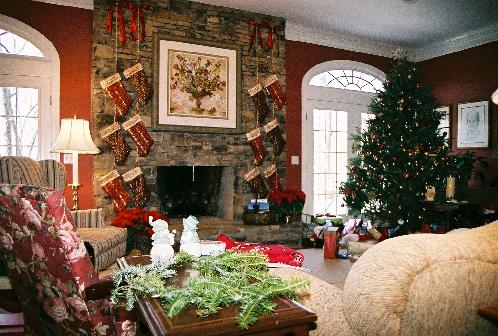 Lights Everywhere
An easy way to brighten up the living room is to string up some lights around the room. Lights aren't just for the Christmas tree. You can pick up reels of Christmas lights at bargain prices from most DIY shops. They do so much to create a festive atmosphere.
If you have some additional space in your budget, it may be worth picking up some lights with multiple settings you can control.
This is always fun for the kids.
Custom Christmas Tree Ornaments
The chances are you have hundreds of old Christmas cards under the stairs. Pull them out and tear off the covers. String a ribbon through the top of them and you then have some custom Christmas tree ornaments. Save the best ones until next year.
Candles and Plants
You don't have to stick to decorations exclusively designed for Christmas. Candles and plants can be recruited to embellish a festive household.
Purchase some plain red and green candles before the big day. These are exactly the same as the overpriced decoration boxes. The difference is these candles don't have the silly branding.
We recommend evergreen branches and mosses for your tables. If you can handle the clean-up operation, a dash of fake snow can really make up the scene.
Festive Pillows Done Your Way
Some households purchase festive pillows that look like gifts. They use them for one month of the year and then they disappear for another year. Save your money by making up the same effect yourself.
A simple piece of Christmas ribbon around the pillows creates exactly the same decoration. If you really want to push the boat out, use some spare wrapping paper to wrap them up.
The Christmas Wreath
A big part of your spend will be on the Christmas wreath. If you have a garden, you can make one of these wreaths yourself with some garden cutters.
Start by gathering together some branches for bulk. Then find some green plants that can stand losing a few stems. Cut them off and twist them together with the branches. Tie it together with some colourful ribbons and add some baubles to it.
Hang this on your front door and you have a homemade Christmas wreath you can be proud of.
Christmas Doesn't have to be Expensive
It doesn't have to cost a lot of money to have a great Christmas. With some ingenuity at home, you can create some Christmas decorations you can use again and again.
Plus, there's nothing that makes a Christmas memorable like getting together with the kids and making something together. It's the things like this they'll remember long into adulthood, not the silly toys and trinkets you buy from the shop.