In the past, you may not have spent so much time in your home as you did this year. Certainly, your views and relationship with this personal space of yours have changed tremendously. There may be areas in your home that worked to be perfectly fine in the past, but, after spending so much time indoors, you know that a little bit of improvement won't hurt.
Staying at home for most of the year in 2020 may have made you realize that there are some home improvements that can upgrade the functionality, style, and look of your home. Whether you plan on staying in your home for the next coming years as your forever home, or you're planning to sell it soon, there are certain home improvements that'll always be worth the time and money spent on it.
Here are some of the most valuable home improvements you can create for 2021:
Outdoor Entertaining Spaces
If you're lucky enough to live in a property where you've got a garden, you can make it your project for this year to give it a facelift. If you haven't done landscaping around it yet, and it's basically just bare grasses, plants and trees scattered, then it's in dire need of a makeover.
An outdoor entertaining space works as a connection to your indoor living space. On days when the weather is bright and beautiful, rather than gathering your family indoors the whole time, you can dine, talk, and even do school and work-related matters in your outdoor space. This can give you that much-needed breath of fresh air – even literally at that.
More so, if you love to have your family over, you can also have barbeques and dinners outdoors. Here are some basic things you can include when creating an outdoor entertaining space:
A deck
Pergola
Outdoor furniture
Apart from entertainment, you may also like to add on some water features in your garden like a swimming pool, for instance. Especially if you've got young kids, this is an investment that'll be worth it than traveling to resorts that are still restricted.
You can read this to have more insights on what kind of water filters you can install in your water features and even in your indoor plumbing to ensure a safe water supply flowing through your property the whole time.
Change Your Windows
New windows are another home improvement idea for this year. If your windows obviously look too worn-out and old, then it's about time for you to replace them. New windows will always bring new life to a home.
For instance, if you've long had small windows, why not go for floor-to-ceiling glass windows. Once your outdoor entertaining area is finished, opening these glass windows will make your home look even bigger. The outdoor and indoor living spaces are seamlessly connected.
Large windows also allow more natural light to come in, making your home look more beautiful and homier. On windy days, you can open these up to bring fresh air inside. In the long run, this may even possibly lower your electricity bill as you can use fewer lights during day time.
Repaint Your Home
One of the popular home improvement ideas for this year involves repainting the home. If you don't have the budget to work on the entire house, you can take it one room at a time.
Paints can add color and life to the walls of a home and can also give your home a newer appearance. If you're on a budget, this is a project you can undertake by yourself. But, if you've got precise details to include in the paint job, a painting contractor can guarantee you excellent results.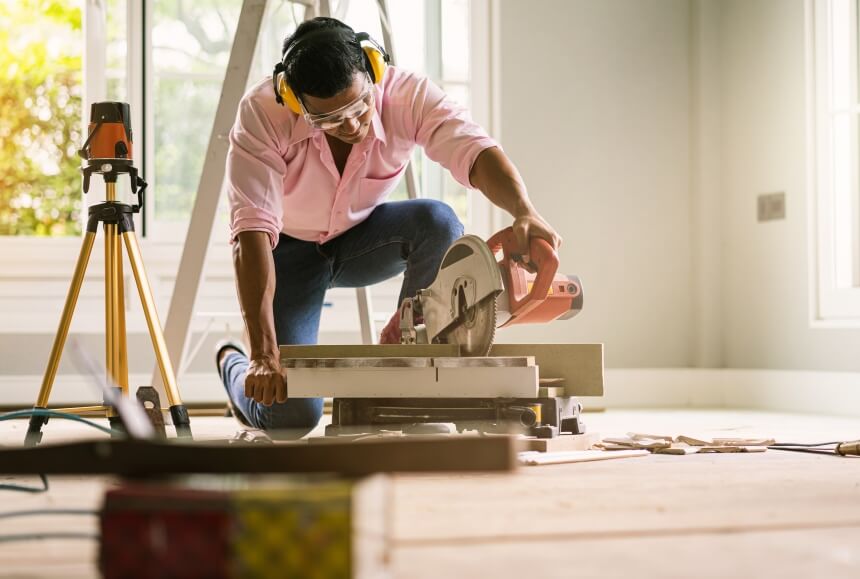 Replace Old Carpeting or Flooring
Replacing worn carpeting is one of the top home improvement ideas for this coming year. No matter how often you clean your home, if your floors are carpeted, this will eventually succumb to its death. Carpeted floors are also difficult and costly to maintain.
If you'd like easier and cheaper maintenance, you can change it up to wood or tiled floors instead. This can make your home look classic and even more elegant and luxurious. While this may be a pricier home improvement, it's one that's set to last for so many years so you don't have to worry about consistently renovating again.
Create A Home Office
A dedicated home office where you can work from home and even home school your kid is one of the most popular home upgrade trends this year.
Because the pandemic has closed down virtually the entire world, people are now working from home and children are homeschooled. Especially if there are multiple kids in the family with both parents working, it can be absolute chaos if there's no dedicated space for it.
Hence, even with the hopes of eradicating the pandemic in 2021, a home office will always be a useful space.
Conclusion
No matter what home improvement project you're going to undertake this year, remember that you can always start small. If you're constrained by your budget from the difficult year as it was, don't be discouraged. Even making small changes already creates a big impact. You can always go through these home improvements for the least cost possible, and the least time as well. When all of these are done, you can smile at your upgraded home – happy at the work you've completed.