When it is time to re-roof your home, either because you are trying to enhance your home's appearance, or because it truly needs it, the first decision you have to make is what type of roofing material that should be used. The type of material that you ultimately use will be dependent on your specific home, what you are looking for in terms of efficiency and the budget you have for the project. This is an important decision and one that should be discussed with the roofing contractor you choose for the project.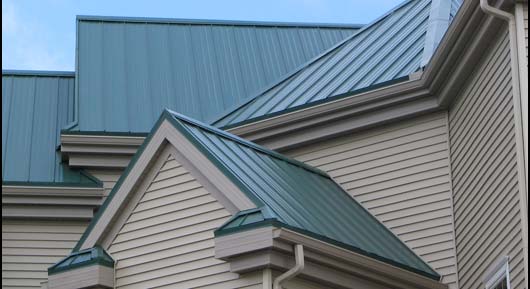 Some of the things that you should consider when selecting the roofing material for your home are highlighted here.
The Architecture of Your Home
Take a look at how your home has been built. The angle of your metal roof, which is referred to as its "pitch" is one of the most important factors to consider. There are some roofing materials that will provide better water drainage, and not require a very steep angle, while other materials will have to be used for flatter surfaces in order to provide proper drainage.
Roofers will also consider the vent pipes or chimneys that are present that will break the actual roof lining, making the job at hand much more expensive and complicated. If your home has low slope roofs, or intersecting roofs, it will further complicate the work and increase your costs, as well. You should take these factors into consideration when you are determining the budget you have for the roofing project.
Aesthetic Design and Style
Another important factor to consider when choosing the roofing material for your home is what will match with the design and architectural style of your home. For example, cedar shakes will not look good on a colonial home. Instead, cedar shakes provide a rustic feel and will work with a number of different styles. One of the most versatile materials that is available is asphalt shingles.
Efficiency and Cost
The majority of roofing companies also recommend that you select the most efficient shingles for your home. Asphalt shingles are the most inexpensive material that can be purchased and used for roofing your home. For many homeowners, the cost is the most important factor that impacts their decision and dependent on your actual budget, it can increase the importance. You should keep in mind that the cheaper materials will often not last as long as the more expensive ones, so saving money in the beginning may cost you more in the long run.
The right roofing company will make getting the right roof easier than ever.