People are now more scared of flooding than ever. And who can blame them? The true rise of modern Internet sharing culture coincided with the dreadful events of Hurricane Katrina in 2005. More than ever, the devastation that flooding can bring to a home and a community was widely seen. There is now no-one who is under any misconception when it comes to the potential effects of flood damage.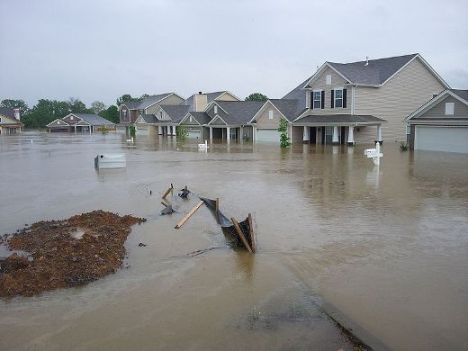 How to find out if you live in a flood risk area
If you live in an area with frequent storms, then you probably have some experience in dealing with some of this danger. Of course, living in a flood risk area doesn't always mean that you're in immediate danger of pooling water. It can also mean you're at risk of suffering severe weather that can create flooding damage in your home. It might be relatively minor compared to a full-on flood. But it can still be dangerous to your structure and expensive to fix.
You can check your flood risk online. But you should also be keeping up-to-date with local weather reports and statements from your government.
What to equip yourself with
You've probably seen people use sandbags as a way of helping prevent water entering their homes. These are, of course, highly recommended! But you should also be preparing for the fact that stores might be closed, or that you might not be able to leave your house.
Stock up on non-perishable foods. You'll want canned goods, long-life milk, that sort of thing. You also need to get plenty of clean drinking water. These instances can affect the health of your tap water, so make sure you're prepared.
Strengthen your home
One of the leading problems when it comes to inclement weather is structural weakness homes. The keys to ensuring your home is protected include making sure your foundation is strong and that your drainage system is adequate.
Older homes may not be properly bolted to their foundations. If this affects you, you might want to look into fixing it. Making sure your roof isn't leaking is also a good idea. You should also consider installing French drains to prevent flooding damage. Flood insurance is also highly recommended. Many people think that flooding is included in the home insurance package they already have. But this is very rarely the case! Make sure your insurance is appropriate to your flood risk.
Know your emergency plan
Whether you're living with a family or living by yourself, you need to have a plan in place. If you need to evacuate, you need to know how to get out and where to go. You need to figure out what how you'll be keeping up-to-date with government announcements.
If you have any equipment such as sandbags, then you need to have planned what you will do with them. Do you know every possible point of entry for water in your home? If you already have this figured out, then you can place the sandbags precisely where needed in no time at all. And time is very much of the essence in this scenario.