Gooseneck lighting is a popular design option for many businesses, warehouses, and barns. The curved arm really emphasizes the fixture and can provide dispersed or focused light, depending on your need. Following are common applications of gooseneck lights.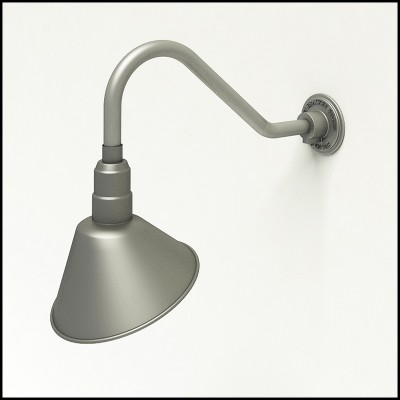 Retail
Gooseneck lighting used correctly can open up a retail space making it look larger and more pronounced. Pointing these angled shades towards special products or advertisements draws the attention to the location and gives a great presentation to the customer. Used outside, you can flood an exterior wall with cascading light which gives a great look.
Warehouses
No one said warehouse lights have to be boring! Combining utility and style is what these fixtures do best. The wide shades allow light to disperse, while still focusing on the target, the area below. Another great use for these style lights is in restaurants, as they tend to draw the attention to the food and tables rather than the ceiling and walls. Keeping the focus on your group is a key to proper restaurant ambiance.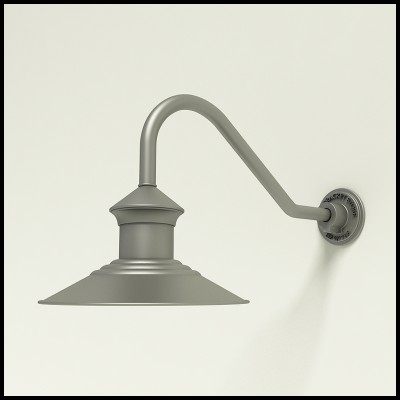 Barns
There are few lighting fixtures as recognizable as the barn light. These saucer shaped shades provide vision of the barn walls, and the surrounding area. While they look antique and vintage, they are anything but! Most modern barn lights are made with high resistance aluminum and can last for years while looking great. Beyond the exterior, many horse owners love having these lights above their stables with the ability to dim the brightness, normally with timers.
Signs
One of the best uses of gooseneck lights is their ability to light up a sign. Whether it is a business, barn, or personal sign, the high arching arm accompanied with the angled shade beams fantastic light that can illuminate your logoor awning to customers or friends during evening hours. Don't be seen half the day, be seen at all times!
Homes
Any of the above styles can be used in a home setting given enough inspiration and design capabilities. One common approach is to use barn lighting over a small kitchen table, as it focuses the light downwards and makes the room feel roomy, yet cozy. If you have a beautiful garden or commemorative stones are emblems, light them up at night with some angled shades. Not only does this show off your hard work, but also keep pathways safe to walk on!