While some of us aren't great fans of online shopping, it does have its own advantages, especially when it comes to exploring a wide choice of goods and, of course, comparing the different offerings without much hassle. Selecting the right bed for your children could prove a tad difficult given the number of products available in the marketplace. If the children are young, you could risk the choice, but for the older ones, it is definitely wise to involve them in the shopping experience. Yes, do be prepared for the spend, but a well-justified one!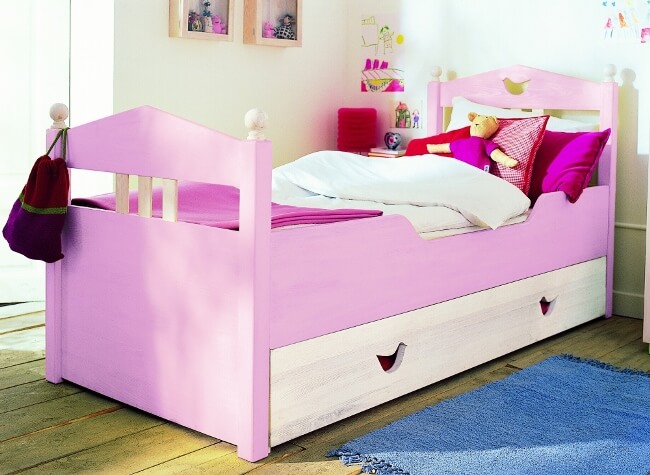 Buying kids' beds are no different from buying a regular bed, but for a few factors that you need to consider carefully.
Safety
Right from the material used to craft the bed to its height and style, it is important that you take time to check out that the structure is child-friendly and safe. The bed must not have any sharp edges or gaps. Also ascertain that any varnishes, paints or polishes used are safe for children. It is, of course, needless to emphasise that beds, especially for toddlers, must be low and preferably with protective railings. However, some kids are taller, so do remember to factor in your child's height plus weight when selecting the bed.
Comfort
This could be hard to judge by simply looking at the picture of the bed, but yes at least it should look comfortable and be of the right size and clean build. If you feel that with the right mattress and accessories you can make your child feel comfortable, it's definitely worth a try. You'll also need to spruce up the room to make it more cosy and special.
Utility Value
It is okay for you to think twice before investing in a kid's bed for it may soon be useless, unless you are planning for another child. Beds with innovative designs – extendable length, detachable railings, etc. – can still be used even as the child grows up. Space-saving designs such as bunk beds and mid or high-sleepers with built storage could be a better bet if siblings share the bedroom. Choices are aplenty and you can check them out at the different children's bed shops online.
Cost
There's no denying that cost and quality often go hand-in-hand. You are not justified in cringing on the spend, especially when it comes to getting a safe, comfy and durable bed for your children. Shop around, look for a value-for-money durable product that conforms to prevalent safety standards, and compare products before taking a pick.
Most of the essential details are provided in the product description posted online. Take time to read them and contact the retailer in case you still have other queries. Also, look for support/instructions on assembling the structure. Remember to check for the return policy. When shopping online, you definitely miss out on the look and feel of the product, and may want to exchange it just in case it doesn't meet your expectations, requirements or worse, fit in the room!
image source: pickndecor