The design of this staircase is spectacular, with its simplicity; it is a structure and a simple aesthetic but at the same time very attractive. The staircase is made of wood, with modern lighting and painted white, which makes it a special idea for decorating environments that need luminosity.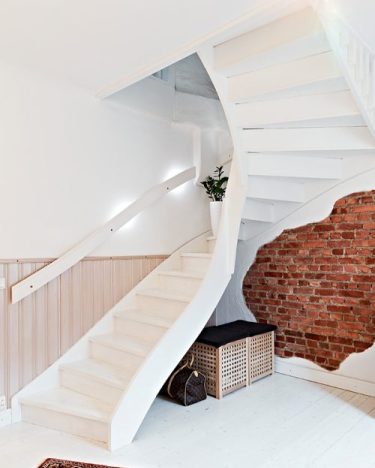 Beyond the suggestive design of this staircase, there are details that make the maximization of available space, and we see the hole under the stairs that has not stayed without being useful because there have been placed two boxes that serve for storage and also as seats. A dual feature that is another idea to take into account in small spaces.
One of the interior walls where this staircase, exposes is a portion of the wall, with exposed brick and this is an element of architecture that adds character to the room.
Returning to the design of the staircase, it is a staircase made of wood, which is designed with a slight curve, a figure that wills slowly curving to ascend. Finishing in white extends all around the path of the staircase. This clear termination increases the brightness of the space, and travel all over the stairs.
As a last detail, on the railing on one side, which is a feature of almost all stairs, practical, but here given an aesthetic twist? For behind this railing have been placed some lights that are imperceptible to the naked eye, but that illuminate the rungs of the staircase, and also enhance the brightness of the area.
The design of these lights, whose artifacts are hidden behind the railing of the stairs, is an element that contributes an original note to the design of the interior.