When we have to decide how to paint the floor usually it is very easy to choose the tone or style that we want for each stay. However, choose the color of the room of our children is often more complicated. And here it is to take into account other types of factors other than the rest of the house: the older that they are, style, furniture, light, size…
It must also take into account that they grow very quickly and decoration should be relevant to their tastes in the coming years. Today we want to help you choose correctly how to paint a girl room with decorating ideas and different shades.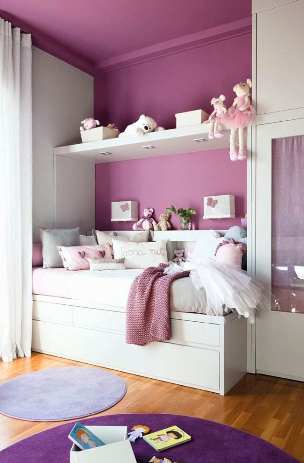 Decorate a girl's room
Dark purple lilac. If you do not want to determine your daughter who likes the pink color, or simply this color does not fill with enthusiasm her, it is safe by choosing a dark purple and lilac. They are two very feminine and timeless tones that blend perfectly with the color of any furniture. With white it provides plenty of light but is also visually appealing with yellow or brown. Ideally, choose the deep purple on one wall and the rest give a lilac touch, much clearer.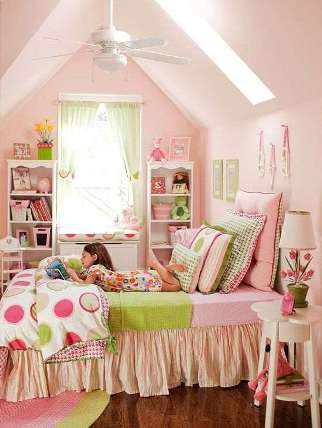 Pink and green. Another combination that is perfect for a girl's room and many times not considered is pink and green.. In both cases it is preferable to choose pastel colors and in very strident tones that could dwarf the room. Ideally incorporate them in the room together with white; i.e., paint a pink wall, put furniture in white and place in green concrete elements such as lamps, curtains, carpets … Although it is a little more complicated to combine so that the visual effects do not cause too much contrast, the result is very original and very feminine.
White and fuchsia. A classic for a girls room, especially if they are small, is to use the white and fuchsia in the room decor. What girl does not want to be a princess? Well, what better than these two colors to recreate in their own space as a magical place. Yes, the rose too much can visually make the room smaller, so the best thing is that you paint one or two walls and also you incorporate some elements of the room. If the rest of details and walls white is the protagonist, you will get that there is harmony and brightness. It will be a happy and ideal for a child stay.
Sky blue and beige. But although most girls tend to want their rooms with the pink or purple colors, there are many girls who do not like. So we offer another combination that is perfect for a female room and whatever their age, will always be current and modern. We speak of the blue and beige shades; to be light colors will bring much light in the room and will be ideal to encourage play and study in them. It is one of the few combinations that can be used so much for a newborn to a teenager girl baby.