It's so easy to let your kitchen become tired and slightly lifeless without even realising. As one of, if not the most used room in the house, the kitchen can begin to look tired way before any of your other rooms begin too. It's important to try and keep your kitchen as fresh and inviting as you can, as it always seems to become the hub of any social gathering, and also creates a much more positive vibe when refreshed and homely. There are so many great cheap kitchens on the market, however it's not always necessary to be as dramatic as changing your whole kitchen. Simple changes or additions can be just as impactful, and you'd be surprised just how much of a difference they make!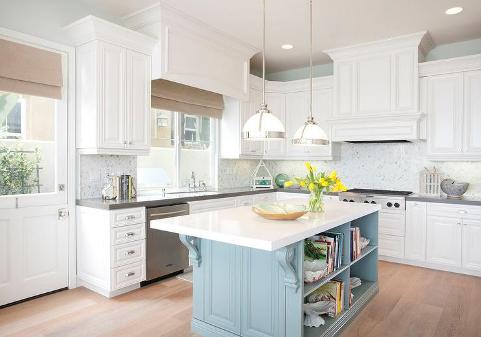 There are so many ways in which you can incorporate new and exciting features into your kitchen, adding personality and a burst of life. The aim is to keep it stylish, without going over the top and over-doing it, as this can result in the room looking crowded and you can lose the atmosphere you initially had. Shelving is a great place to start, as you can never have too much shelving.
Practical and stylish, shelving is the perfect solution for additional storage space, as well as being able to display certain items to add a little extra to the design of the room. Books are a great item to display on shelves, along with statement crockery and other items such as photo frames and candles. Having shelving units simply gives you the ability to show off your favourite things, whilst keeping the room neat and stylish.
Another great way to inject style and character into your kitchen, is through the means of a 'back splash'. Many people stick to the minimalistic chrome backsplash feature, keeping things simple and elegant. However, there are so many homes on the market today that have really made the most out of their backsplash, fusing both colour and style into one design to create a bold, statement feature.
Sticking to the correct colour scheme, only working with colours that complement the rest of your kitchens design, and experimenting with patterns and designs, can work perfectly to gain the ideal backsplash design. A very popular style used for this particular feature is tiling, using coloured or monochrome tiles to join together is both practical, as they are easily cleaned, and also eye catching and bold.
The next feature for adding character and style is a utensil rack. The sensible location for a utensil rack, is usually above the cooker, attached to your backsplash. Having all of your utensils to hand, situated right where you are preparing and cooking meals, is ideal and also creates added style and charisma to your kitchens overall look.
A simple method to creating extra light in any room, not just your kitchen, is cleaning your windows. One of the most overlooked cleaning methods, cleaning your windows is easy, as well as a very, very effective way of allowing more natural light to filter through your room. Natural light is so important when it comes to a rooms atmosphere, and overall appearance.
Enabling a room to feel larger, spacious and fresh, natural light creates a homely, inviting vibe to any room. Your kitchen windows are likely to be the ones that need more of a clean, as you cook all sorts of different meals in your kitchen, generating steam that will sit on your windows and eventually begin to block out natural light. It may not be visible to the eye, but there is likely to be a small build-up of dirt on your windows, and a quick clean can really make a huge difference.
One way to really brighten up your kitchen and add a new lease of life, is by simply decluttering and organising your area. It sounds so obvious, but many people don't realise just how much of a difference a quick tidy up can really make. Disposing of any unwanted items that make your counters or table look cluttered will instantly create a spacious, fresh look.
Organisation is key for any kitchen, having specific things in specific places is ideal for practicality and will help you so much in your day to day routines. If you have a table in your kitchen, a great way to ensure your kitchen is constantly inviting and homely is to keep the table dressed. This can be something you do with just one plain table cloth, with a few placemats and a fresh vase of flowers in the centre of the table. By having the table constantly dressed, your kitchen will look ready to use and inviting all of the time. It will also prevent you from allowing unwanted items to build up on the table instead of being placed in their dedicated places.
Other smaller additions to your kitchen can really work well, adding extra charisma and detail to your kitchen. Kitchen plants are an easy, low maintenance and stylish feature to have in your kitchen. Placed either on your countertops, table tops or even on the floor (dependant on the height of the plant) you can really play around with where you place your plants.
Having plants in your kitchen are a lovely added detail, adding style to the room and, if you felt really adventurous, you could even purchase some herb plants, and use them in your everyday cooking. The great thing about plants in your kitchen are that they take little maintenance, just a quick water every few days, and they also draw your room together, making it inviting but not too busy.
Another way to incorporate colour and style into your kitchen, is by adding a statement artwork piece. If you have some space available in your kitchen, adding a nice painting or image will also add character and life to the room. Brightening up the atmosphere and adding a modern touch to your kitchen, a statement artwork piece is perfect for creating that exciting, stylish design.