A change of season can be the perfect opportunity to create environments or decorate a room with new style. On this occasion, the living room of a contemporary house is the protagonist, and is renewed with fabrics and colors.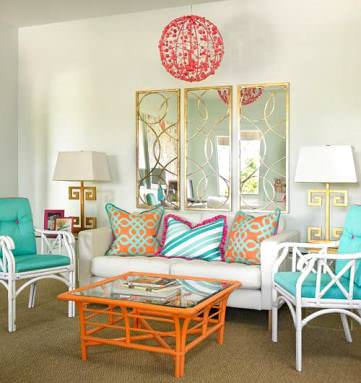 The color chart and samplers for this autumn bring us bright colors such as fluorine, ideal for creating contrast and tonal touches like fuchsia or bright orange, we can decorate a living room and print a current wink. These contrasting combinations inviting environments compose daring and youthful spirit, support multiple alternatives, such as a white sofa or ivory with colorful cushions.
Dress the sofa, ottoman, chairs or a couch with fabrics that convey warmth to the room, and to add dynamics to bet decoration patterns that contribute to textures and effects. Soft, bright fabrics so much to touch and it is visually attractive, such as velvet or silk, combined in cushions of different shapes, allowing give life to an interesting play of light and shadows.
We can also choose a color scheme dominated by a sober and romantic aesthetics. The fabrics with floral prints are allies when adding a chic and feminine seal to the decoration. You can incorporate textiles with these drawings in cushion covers, lampshades or even a box that crowns the room.
In the blink of an eye, a lounge comes alive if the sofa or armchair with a covered sheath. This option can be a interesting decorative solution for when the appearance of the furniture no longer fits the style of the room. You can choose these cases in various textiles and color palette that you want for fall.
Light up your living room with autumnal decoration without neglecting add a personal touch to the environment. White, beige, cream may be the main tone of a room and find an attractive counterpoint in rich, deep colors like red or green. You won't mix of textures to compose elegant and welcoming environments.