For home decoration, the letters are a perfect resource. They are ideal to combine with all styles and come in different shapes, sizes and you can choose the desired material that can be made of wood, thread, buttons, letters scrabble, wool, cardboard, metal and even flowers.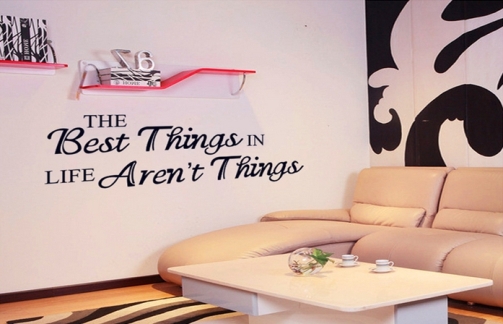 In most decoration shops we can find all kinds of letters, and on the Internet there are many tutorials where we can make ourselves with cardboard and even introduce lights inside to give it a more modern touch. To these letters we can also fill them with flowers or decorate with colored paper or vinyl.
We can also find pictures with a single letter or motivational phrases that are fashionable. But it is best to create our own messages to convey what we want. Another option for decorating with letters is to use textiles where we found hundreds of letters, words and phrases, such as pillows in the form of letters. There is much to choose, these can be placed on chairs, sofas or beds.
The decoration with letters permeates the home of character and personality. The best thing is that there is a wide range to choose from, and thus fill the house with motivational message and make it more personal. There is no right place to place, fit well in any environment as the bedroom, living room, kitchen or hallway. The optimum is not to abuse them.
The letters also may be present in the kitchen utensils, in boxes, vinyl, and can also decorate with them your favorite dress garments. They also serve to brighten up furniture, doors or spaces that need a bit of life. In conclusion, decorative letters marked trend in your home and it will be perfect if you use your imagination.