The dining room can be a room connected to other rooms, a space divided from the rest of the house, decorated in a classic, vintage, modern style, there are several possibilities, and in this case meet some suggestions for decoration of dining rooms with original ideas.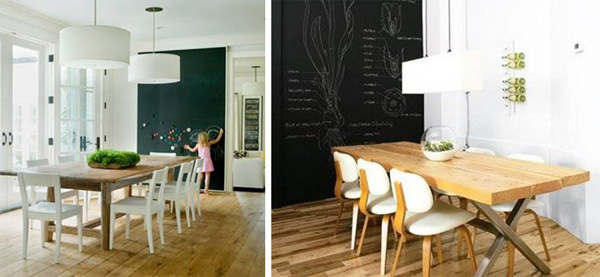 A room can be converted into a space with a new style, appealing to small changes in the decoration of this room.
Add a sense of cheerful, youthful and fun to a dining room is achievable with resources such as space lighting. A formal dining room will get an interesting change renewing lamps are not only useful, can play with the possibilities offered by the various designs that are available in the market today.
A line of colored lights that illuminate an area of the dining room, or a pair of creative and innovative design chandeliers, the location of the ceiling lamps also serves to add interesting effects to the environment.
The lighting is not the only tool to add an original nod to the decoration of dining rooms.
The Chalkboard paint is a trend that has many alternatives in the decor of any space. In a room can be applied layers of chalkboard paint in an area of a wall or paint an entire wall. This will be achieved an interesting change in the environment, at once, the slate will be a useful element for the entertainment of the smallest of the house.
Combine chairs of different designs and colors, it is perfect to create a unique dining room, and a youthful and fun atmosphere.
Betting on the furniture another original idea is to use a vintage table, recycling it and painting it an intense and fun color.
A table made from an old door, recovered and converted into a table with a rustic touch that becomes the center of attraction of the room.