The ropes have always been considered an element of work, and often we relate them to the marine world, but the truth is that decorating with ropes is a very interesting idea and that gives a lot of play. That is why we are going to see some of the most sought inspirations to decorate home with ropes.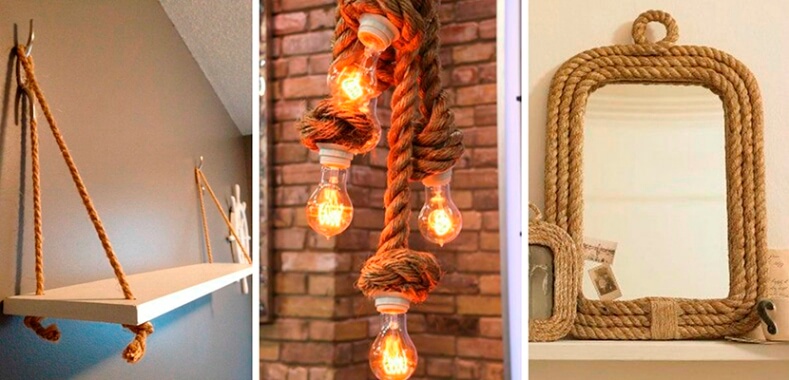 When decorating with these elements we can choose between thin or thicker ropes. The great advantage of this material is that it adapts to almost everything, it is strong but flexible, and so we can add it in many different things, from shelves to the legs of a table or a mirror.
Decorate with ropes in the form of walls
This is a very original way of separating spaces without losing luminosity or communication. Create a rope walls as a display. In this case they have done it with the office, but it can be used to separate the dining room in a very funny and special way.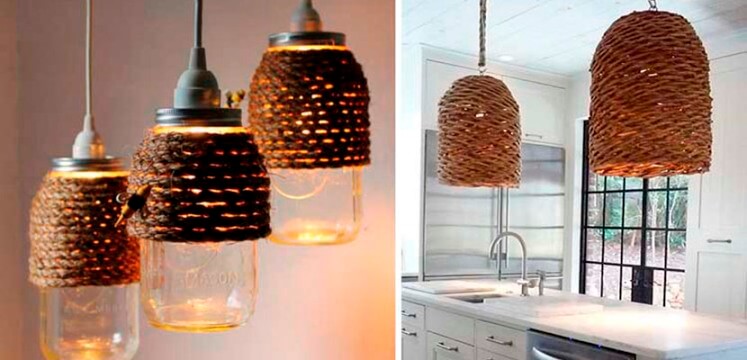 Rope lamps
As for the lamps made with ropes there is a whole world to discover. Due to the arrival of the industrial style this has multiplied and nowadays we can find all kinds of models. They usually have the cable wrapped in rope and leave the bulb in the air, but this is just the simplest model.
If you want something more sophisticated and original, try glass jars or large spotlights surrounded by ropes. Some lightness is reduced by wrapping the light with the rope, creating only a focal light, something that must be taken into account if we like these lamps, but the decorative effect is incredible, since it serve for all kinds of environments, adding the natural and industrial touch.
Decorative details with ropes
If you like this trend, you can start with some decorative details for the home. For example, nothing is simpler than putting some ropes in glass vases so that they can be seen and remain decorative. But you can also buy ropes of different thickness and cover some things. From a glass jar to a bottle.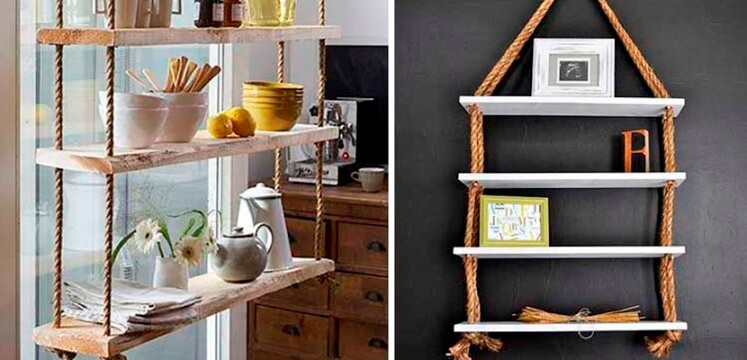 Ropes for shelves
The shelves of the home can be made with strong wooden ropes and planks. It's a fun idea that also brings a boho and informal touch. We must bear in mind that these shelves can move a little, unless the planks are fixed to the walls.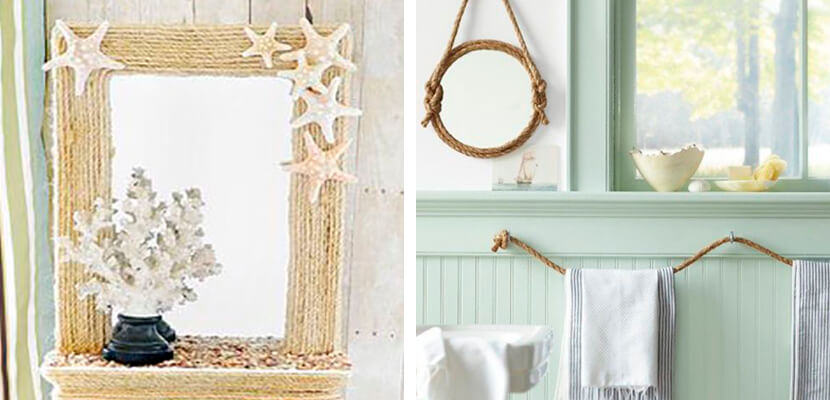 Mirrors with ropes
If you like the details with mirrors at home, you can always change them with a little rope. A round vintage mirror becomes something totally new with a little rope around it. In that bathroom we see an original mirror with matching towel rails. Elements that are not very expensive and that provide a different touch. If we also want to give a marine aesthetic to everything, we will only have to add some textiles with blue or red stripes.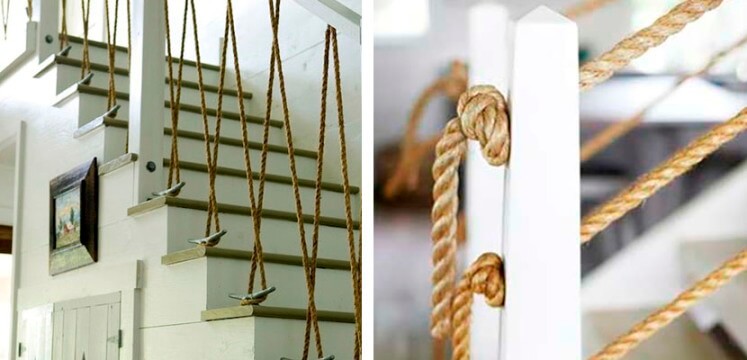 Ropes on the stairs
This is a very original idea, but as long as we do not have animals or small children at home. It is a handrail made with ropes. It is original and beautiful, leaving a feeling of space in the area. It is a good idea if we have a low-light entrance, since a wooden handrail can reduce luminosity.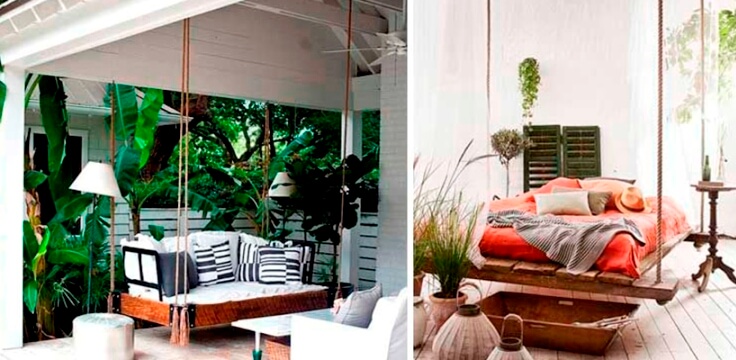 Ropes in suspended furniture
This is a great idea for outdoor furniture, although we can also see it inside the house. Ropes to suspend a piece of furniture, be it a sofa, an individual armchair and even a bed. It is something that will support a lot of weight, so the hooks should be done well.
Curtains with ropes
If you want different curtains for the living room or for your bedroom, try adding rustic-looking ropes. These can be added both on the top and on the sides to hook the curtains. It is a different way of putting them that is very original. The simplest idea is to put some ropes on the sides. In addition, we must not forget the rustic touch of the ropes, which must be combined with the curtains, which in this case have a grayish and dark tone with which they combine perfectly.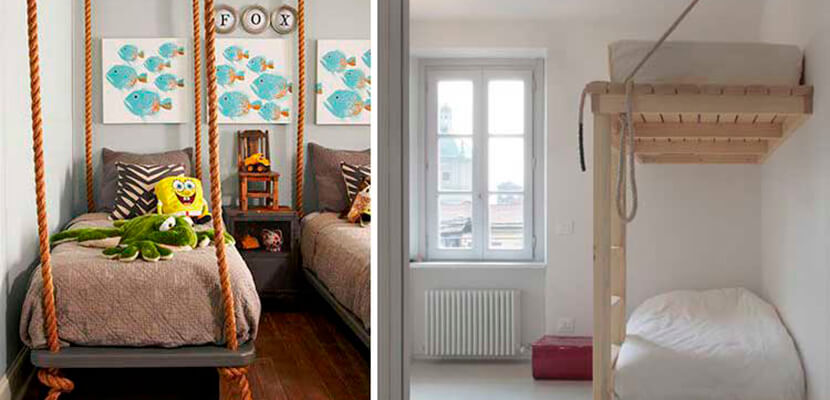 Children's beds with ropes
If you are looking for a special idea for the children's room, you can use the ropes for their beds. Although they are not suspended by them, they can be added as a decorative element. Children love these fun touches that make your room a unique and personalized place. We have also seen them in children's bunk beds.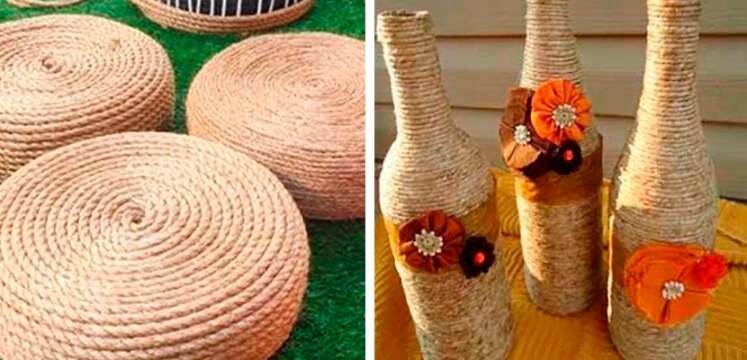 Exterior details with ropes
Now that we start to tune the garden area, these ropes can be a good ally. We can make some great puffs with recycled ropes and wheels. You have already seen the DIY somewhere. A round board is placed in the hole part of the wheel and covered with rope, which is stuck with a silicone gun. The result is great and it is a resistant element to be on terraces and outdoors. We can also add other small details, such as bottles decorated with ropes.