It's always wonderful to get a new bathtub. A new bathtub can completely transform the appearance of a bathroom. Nowadays, Acrylic tubs are the most popular in modern bathroom decor. Since most acrylic tubs do not come with pre-installed faucet holes, new users frequently wonder if they can make holes in them.
One can easily make a hole in an acrylic tub with a drill machine. Drilling won't ruin your new tub. Furthermore, acrylic tubs are available in a variety of designs, shapes, and colors. Most significantly, these tubs are inexpensive, lightweight, and need little maintenance. As a result, acrylic tubs are becoming a widely attractive option.
Since many users are unsure if acrylic tubs are suitable for drilling, this article will address the question, "Can you drill holes in an acrylic tub?" Besides, the readers will learn the benefits of acrylic tubs and answers to some FAQs. So, let's start.
What is an acrylic tub?
Before jumping into the drilling question, it's essential to know what an acrylic tub is. Because if you prefer an acrylic tub, then the drilling issue will arise.
Acrylic tubs are just vacuumed colored acrylic sheets with a fiberglass layer on top. Therefore, they are polymerized materials. Fiberglass enhances durability. But they absorb water since they are porous. Therefore, manufacturers use transparent plastic or acrylic sheets to prevent water access into deep layers that can hamper the tub.
As previously said, acrylic tubs come in various patterns, shapes, and colors. The most popular dimensions are 60 inches in length by 32 inches width by 18 inches in height.
What are the advantages of acrylic tubs?
There are numerous advantages of acrylic tubs. I have mentioned below some of the prominent benefits;
Affordable: Acrylic tubs are one of the most affordable tubs currently found in the market. So, one doesn't have to struggle with budget issues to change the old bathtub.
Heat retention: Acrylic tubs have a higher heat retention capacity to keep water warm for a long time.
Durability: Acrylic tubs are durable to withstand several years even without any maintenance due to fiberglass layers. If users can take proper care of the tub, it will last longer.
Lightweight: This feature is vital for installation and replacement. Since these tubs use plastic and fiberglass material, they are lightweight. So, the users will not face any difficulties in installing or replacing them. Moreover, the installation of acrylic tubs requires no floor fittings.
How to drill a hole in acrylic tubs?
One can easily make a hole in an Acrylic tub by following the below steps.
Required materials:
Measurement tape/ manual provided by the manufacturers
Pencil/Pen
A 1/8-inch pilot drill
Hole saw cutter
Steps:
Placing the tub: Place the tub in a flat place.
Measuring Width: Find out the tub's width in the manual. It's better to measure by yourself two to three times to avoid any mistakes.
Measuring the faucet's diameter: Now, measure the diameter of the tap and mark it around the middle-width point of the tub.
Marking points: Point out the middle point of the tub's width with a pencil to make a hole. For instance, if the width of the faucet is 30 inches, the middle point would be 15 inches.
Making a pre-drilled pilot hole: Make a tiny hole in the tub with a 1/8-inch pilot drill as a pre-drilled pilot hole.
Make the final hole: Now create a hole with a hole saw cutter. Set the cutter on the pre-drilled point. Modestly push the hole saw cutter to reach the deeper layer of the acrylic tub.
Clearing debris: Clear up any dust that has accumulated on the surface as a result of the hole-making process.
Placing faucet: Now place the faucet and fix it with bolt.
Related: What can cause a tap to drip?
Tips:
One can easily do the steps mentioned above. But many users struggle to set the water lines. In this consideration, one can take the help of professionals.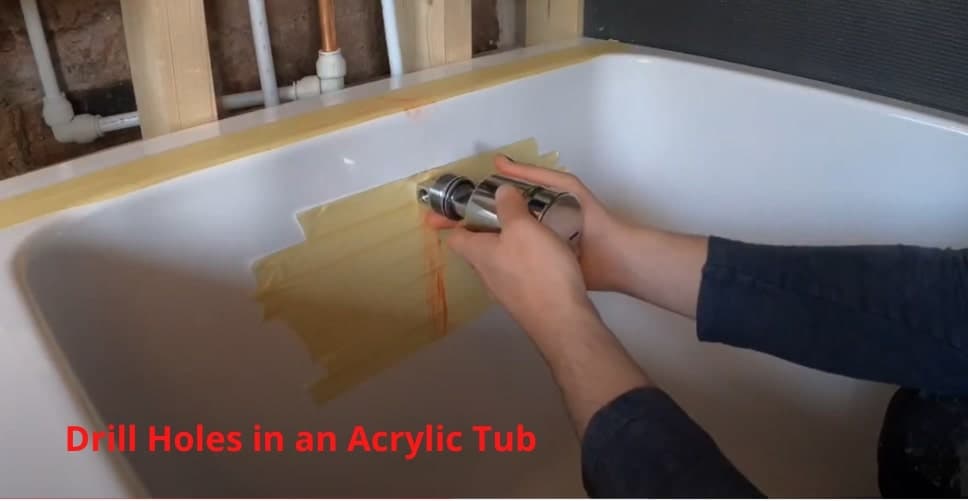 What is the proper size of a bathtub hole?
According to professionals, The standard hole size for a new bathtub is 28mm in diameter. A typical tap thread is a 3/4″ BSP or British Standard Pipe with an inner diameter of 25mm. A 35mm hole is usually suitable for a monobloc mixer tap that supplies both hot and cold water from a single specific source.
However, these standard sizes can vary based on faucet types. So, always check the dimensions of the faucet several times before drilling to avoid ruining the new bathtub. Furthermore, once you have created a hole in the bathtub, you can't return it.
How to drill holes in a fiberglass tub?
Drilling a Fiberglass tub requires greater caution since the material is more delicate than others. Here is the procedure for drilling a hole in a fiberglass tub:
Wear eye-protective glass as drilling a Fiberglass tub can spread crumbles.
Measure the width between 2 tap holes and mark it on the tub with a pen/pencil.
To make a pilot hole, utilize a 1/8-inch drill bit.
Now, take an appropriate-sized hole saw cutter and create holes with gentle pressure until the hole saw cutter reaches the deeper layers of the tub.
Clean up the debris that has spread in the surrounding area.
FAQ:
Do you need a special drill bit for the acrylic tub?
Generally, people use 1/8-inch drill bits to make holes in Acrylic bathtubs. In this regard, Spade drill bits and Forstner drill bits are more well-known since they can create clear holes on acrylic with less amount of chips.
Can one drill a hole in a freestanding acrylic tub?
One can drill holes in a freestanding acrylic bathtub. Besides, users can also use the tub with a water pipe. In this case, users don't need to drill the tub.
Final verdict
Most often, acrylic bathtubs do not come with holes for installing faucets. Therefore, many people wonder when drilling their new acrylic bathtubs and find solution.
To alleviate their concern, I have discussed whether users can drill their tubs to install faucets. Besides, I have provided some additional information on acrylic tubs. I hope the readers have found the article informative and valuable.