Having few square meters in a room already is no longer an excuse to not print personality and style to the decor, because there are thousands of ideas and details that create a lovely atmosphere, making the maximum available surface. We show a proposal to decorate a mini stylish dining.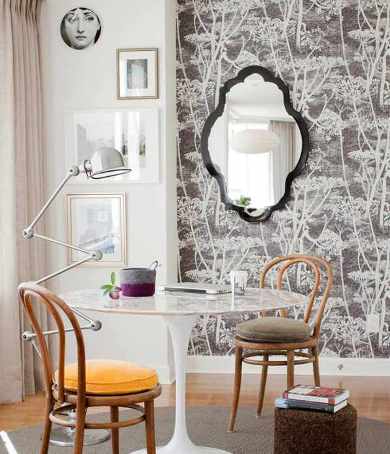 To begin, the walls take role in this small space. In a sector it appealed to a dose of art, with a few pictures to in another area of the wall, dressed in wallpaper, resources are two simple to implement and that do not reduce space.
Another star of accessories is a mirror, accompanied by the elegant shape of its frame adds lightness to this corner. The mirrors multiplied the ambient light and at the same time are ideal to give greater feeling of spaciousness.
The chosen table model is a real treat, the Tulip table, which provides an organic form and functionality to the space. It is accompanied by a pair of wooden chairs contrasting with white and bright finish of the table, and also a nod to vintage style will add warmth to the decor.
A circular carpet surrounds the furniture and sectorial to the perfection the zone, getting few elements with character and style in few meters.